The Voice – Israeli style
January 13, 2012 - 9:56 AM by
David
The Voice has conquered Israel. The singing competition/reality show which captivated the US last year debuted here last week and broke TV ratings records.
The first episode – aired by Reshet on Channel 2 on Saturday night – scored 43.4 percent rating of 1.6 million viewers. Remember, we only have eight million people in the whole country.
Just like the US version features celebrity judges/coaches Christina Aguilera, Cee Lo Green, Adam Levine, and Blake Shelton, the Israeli edition has its own star lineup – Sarit Hadad, Rami Kleinstein, Aviv Geffen and Shlomi Shabat. It's been hyped to the hilt on TV promos, and newspaper features, so the anticipation for the first episode was high.
The premise of the show is centered on a blind audition process. The judges, with their seats turned away from the seven performers, have the length of each audition to decide whether to turn their seat around and pursue the singer for his or her team (and a season's worth of coaching, performances and competitions) only by virtue of listening.
Among the seven competitors was one who raised the eyebrows of native English speakers – 23-year-old Kathleen Reiter, a new immigrant from Quebec. She belted out a version of Adele's "Rolling in the Deep" that had the judges swiveling around and facing her in seconds.
"How many years have you been here?" asked Kleinstein.
"I just got here a few days ago," Reiter answered in fluent Hebrew, to the astonishment of the judges.
"Your voice is huge," said Hadad, trying to recruit her with a common bond of "girl power."
Geffen told her that he had a warm place in his heart for Montreal, where he frequently performed, and Kleinstein summed it up, saying "One thing is clear – we all want you."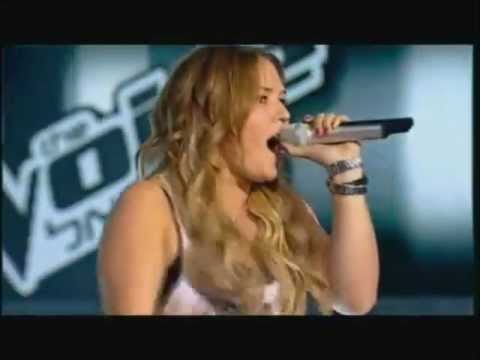 Reiter eventually chose Hadad, and this weekend's show will indicate whether she made a good choice. In the meantime, she's happy to be in her new country, albeit equipped with decent Hebrew thanks to her upbringing with her Israeli parents who moved to the Montreal area from Kiryat Haim before she was born.
"I don't know what the future holds, but I know that this is an amazing opportunity for me and a great start to what will hopefully be a great life here in Israel," she told me during the week after her debut.
It's not a bad start, indeed. How many other North Americans get off the boat and become national TV fixtures in their first few days in the country?
Comments