Double circling around the Israel Museum
There are only two days left to check out one of the most unique and fascinating art installations I've seen. The Israel Museum has brought Israeli artist Ron Arad's "720 Degrees" to Jerusalem. The monumental work consists of 5,600 silicon rods suspended from a height of 8 meters forming a perfect circle. Onto these rods, a series of videos by leading multimedia artists, both Israeli and international, are projected. Visitors can walk around the structure to see the videos from different angles, or actually push aside the rods like heavy blades of tall grass to enter the circle and watch the videos from inside.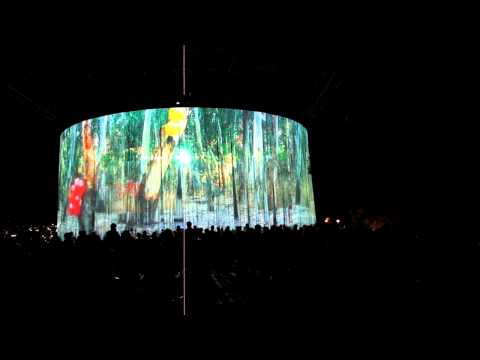 The show was packed the evening we attended, but the large space – it's set outside – means that spectators can wander through the Billy Rose Art Garden to choose their vantage point. There are stools and chairs you can grab when your legs give out.
The videos range from the atmospheric – rain and waterfalls, "Matrix"-style constructions and techno music – to the humorous – a cartoon man walks in a circle around the structure and grunts (it's a lot funnier than it sounds). There is also a very cool video designed especially for the space by Christian Marclay, whose monumental work "The Clock" was previously shown at the Israel Museum. In this video, Marclay shows disembodied hands at a keyboard, playing all around the circle so that you never know where the next notes will appear.
You can book two entrance times for 720 Degrees – the first is at 8:30 PM – but it doesn't actually matter because the show starts at 8:00 PM and people arrive in a continuous flow throughout the evening.
There are also some surprise live performances. When we were there, popular Israeli singer Shlomi Shaban presented a hauntingly beautiful song accompanied by the star on solo piano.
Unfortunately, you can't get a combo ticket to enter the museum (which is open late on Tuesday nights) and see the show. Also, for visitors coming from outside Jerusalem – it's cold at night outdoors, so bring a sweater. If you're overseas, if you're lucky, Ron Arad's production will be coming to a theater near you, as 72o Degrees was originally commissioned by the Roundhouse in London, so it shouldn't be exclusive to just Israel.
Kol HaKavod to Israel Museum director James Snyder for continuing to bring world-class exhibitions to the museum and putting Jerusalem high up on the Israeli cultural map.
Comments