Live from the Jerusalem Marathon
It was like Yom Kippur for runners: all the main streets in our neighborhood have been blocked off; no cars are on the road, just people – thousands of them – filling Emek Refaim Street, Yehuda, Elazar HaModa'i, Kovshei Katamon, all participating in the third annual Jerusalem Marathon. And there, along the sides of the course, were hundreds more people cheering the runners on, yelling out encouragement, blasting through megaphones and cranking up those annoying foghorn noisemakers. Across from the post office on Emek Refaim, a disc jockey had set up and was playing an early morning set of trance and disco music.
Three years ago, I ran in my first and only marathon – actually, only the 10K part. It was supposed to be the first of many but a leg injury has sidelined me from running of any sort since (my exercise is now low impact on our home elliptical machine). So this year, I came to watch. And it was something, indeed.
I heard the cheers already from our house, about a block from the train track park in Baka where the runners had rounded the corner and were heading toward the old train station. I did my one equivalent of a Marathon pose and sprinted out with the dog to go see.
It was 9:30 AM and those doing the full Marathon were pushing through our neighborhood past the big sign that said "Kilometer 29."
Here's what they looked like in video: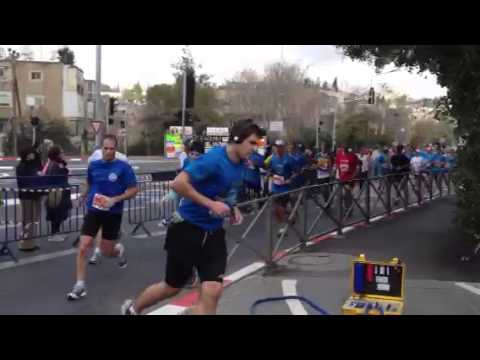 "Only 13 more to go, you can do it," a foreign camerawoman called out as she snapped what she hoped would be a satisfactory photo for her bosses back home. The runners looked remarkably coiffed given how far they'd already come (their part of the race started at 7:00 AM). I decided to give the dog a long walk and do a few errands – buy the Friday paper, pick up the challot. By the time I was on my way home, there were still some stragglers on the course, close to an hour behind in time from the front-runners. They looked decidedly less poised.
Still, there is something about running in a race that is different than exercising on your own. There's making good time, of course. But it's more than that: being part of a crowd where everyone has a similar focus gives you extra energy; allows you to go farther. The endorphin release is faster and more prolonged.
The Jerusalem Marathon is not one of the top ones in the world – the intense hills of the city make it hard for runners to best their times from other races. But it is unquestionably one of the most beautiful. The route runs through thousands of years of history, from the starting point near the contemporary Supreme Court to the many vistas of the ancient Old City. Runners will pass by stately Arab and Templar homes in the German Colony and the uber-modern light rail along Jaffa Street. This year, 20,000 runners registered, compared with, say, the New York Marathon which had more than 45,000 participants in 2010
But for most of the faces I saw on the streets this morning, size, hills and status were less important than just having a good time and achieving a goal that takes training and persistence. To this years runners, let me borrow that megaphone and call out Kol HaKavod – great job. You make our city, our country (and yourselves) proud.
Comments