The way we are – hoping for a visit from Streisand
March 13, 2013 - 9:32 AM by
David
We really want to believe it, we do. The reports that Barbra Streisand will be coming to Israel to serenade President Shimon Peres in honor of his 90th birthday may or may not be true, but they're catching on like wildfire.
Yediot Aharonot is to blame, or credit, with the information that the legendary diva will be arriving to open up the Israeli Presidential Conference on June 18 at Binyanei Hauma in Jerusalem. The only snag is that it's not a done deal.
The Presidential Conference organizers responded to the report saying that Streisand had been invited to the conference's opening night and that they would be delighted if she were to accept.
The 70-year-old funny lady, despite being a spring chicken, compared to Peres, has a mutual admiration society going with Israel's president, and they met last year when Peres was in Hollywood.
Streisand hasn't visited the country since 1984 when she came for the Israeli premiere of the film Yentl and in order to dedicate the Emanuel Streisand Building for Jewish Studies at the Hebrew University in memory of her father.
Despite the dodgy aspect to the report, it hasn't prevented breathless Streisand fans in Israel from tweeting and posting queries about 'buying tickets for Streisand's concert.'
Even super tenor David D'or, an acclaimed performer in his own right, told me this week that one of his career aspirations would be to duet with Streisand when she comes on the Yom Kippur classic, "Aveinu Malkeinu," which both have performed. Peres is known particularly to be a fan of Streisand's rendition of the liturgical lament.
Whether the unsubstantiated reports prove to be true, or just another exercise in wishful thinking and creative news reporting, Barbra Streisand fever has taken over Israel, even making people forget that a certain US president is due to land in a few days.
Here's Streisand peforming "Aveinu Malkeinu."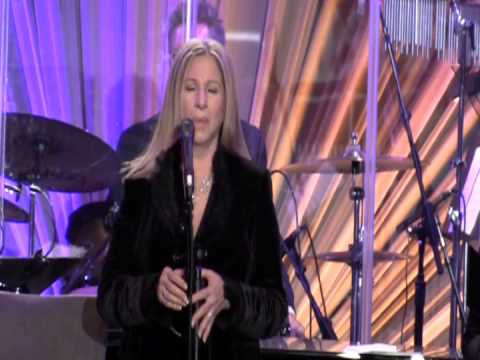 Comments