We really want to believe it, we do. The reports that Barbra Streisand will be coming to Israel to serenade President Shimon Peres in honor of his 90th birthday may or may not be true, but they're catching on like wildfire.
Yediot Aharonot is to blame, or credit, with the information that the legendary diva will be arriving to open up the Israeli Presidential Conference on June 18 at Binyanei Hauma in Jerusalem. The only snag is that it's not a done deal.
The Presidential Conference organizers responded to the report saying that Streisand had been invited to the conference's opening night and that they would be delighted if she were to accept.
The 70-year-old funny lady, despite being a spring chicken, compared to Peres, has a mutual admiration society going with Israel's president, and they met last year when Peres was in Hollywood.
Streisand hasn't visited the country since 1984 when she came for the Israeli premiere of the film Yentl and in order to dedicate the Emanuel Streisand Building for Jewish Studies at the Hebrew University in memory of her father.
Despite the dodgy aspect to the report, it hasn't prevented breathless Streisand fans in Israel from tweeting and posting queries about 'buying tickets for Streisand's concert.'
Even super tenor David D'or, an acclaimed performer in his own right, told me this week that one of his career aspirations would be to duet with Streisand when she comes on the Yom Kippur classic, "Aveinu Malkeinu," which both have performed. Peres is known particularly to be a fan of Streisand's rendition of the liturgical lament.
Whether the unsubstantiated reports prove to be true, or just another exercise in wishful thinking and creative news reporting, Barbra Streisand fever has taken over Israel, even making people forget that a certain US president is due to land in a few days.
Here's Streisand peforming "Aveinu Malkeinu."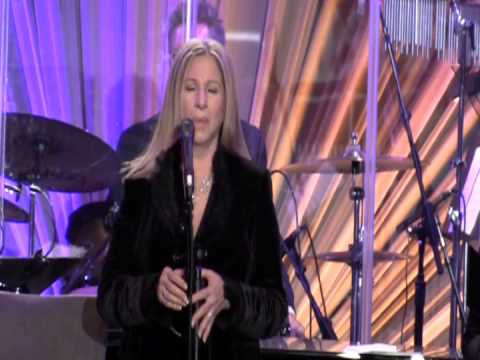 Yosef Adest is a self-described Photographer/Video Producer Entrepreneur, Oleh from the US and Tel Aviv resident. Adest also has a flair for organizing group projects.
Case in point: Fifty-Two Frames on the Second Floor, a new exhibition spearheaded by Adest that opens this coming Monday at Tel Aviv's Cookies Cream Bar. The exhibit features photos from 52 Frames, a project he organized on Facebook, in which photographers from around the world share the best of their weekly work produced according to different themes.
The theme of Love, for example, yielded this image of kissing couple. Adest commented that he'd just met them that same day. "I had them in this 'just about to kiss' pose for about 5 minutes!"
Levitation…

Physics…

Minimalism…

That photo is of Adest's trusty Canon camera (which he uses for for point-and-shoot photos) as photographed by his in-studio Canon 5D Mark 3. He provides online followers with instruction — for example, How to set up an 'infinity white' product shot in less than 10 minutes — and offers critique as well.
52 Frames has a "cousin" project, also organized by Adest, called Photography Project 12, a group of professional photographers who commit to posting one new photo each month, according to a challenging theme, for example practicing the HDR (High Dynamic Range) photo technique, in this case on Dizengoff Street…
Panning…

52 Frames also organizes monthly (more or less) Photo-Walks that are open to the public in Jerusalem, Tel Aviv, New York and Manchester UK.
Photographers interested in joining the 52 Frames group should contact Adest via his Facebook page or website. To follow the progress of these projects, give Yosef Adest Video & Photography a "Like". And to learn more about how he works his magic, take a look at this "Behind the scenes" video of how the "Physics" shot came about.
How I created this anti-gravity shot in a 5 min timelapse. from Yosef Adest on Vimeo.
More examples of his work:

Yosef Adest Video – Demo Reel from Yosef Adest on Vimeo.
BTW, you may remember Adest's name from the humorous Sh*t Anglos in Israel Say viral video that made the rounds in 2012. Just for laughs, here it is again!
The Jewish Press, not especially known for their humor, published a piece for the holiday announcing that The Rolling Stones had booked two shows for Israel on Yom Haatzmaut in April to help the country celebrate its 65th birthday.
Perhaps because their version doesn't go overboard and reads like a staid news story at the beginning, focusing on the Boycott, Divestment and Sanctions (BDS) groups opposing the shows, some people thought that it might actually be a real news item. Especially anxiety-provoking was the line that the two shows – in Teddy Stadium in Jerusalem and in Bloomfield Stadium, Tel Aviv, were already sold out.
Evidently discerning readers didn't get to the part later in the story – where some tongue in cheek humor revealed itself.
Mick Jagger, Keith Richards, Charlie Watts and Ronnie Wood will all arrive in Jerusalem on Thursday, ahead of their opening concert, to meet President Shimon Peres who says he's been a stoner for ages.

"When 'Get Off of My Cloud' came out, Dayan brought me the single from London," Peres said. "We played it for hours in the office until Paula Ben Gurion threatened to throw us out."

David Ben Gurion's wife, Paula, was a Kinks fan.
Despite that giveaway (Paula Ben Gurion really loved The Yardbirds, not The Kinks), messages on Facebook and Twitter began proliferating announcing the imminent arrival of The Stones. I received at least three messages from musically savvy friends asking if I could help them get tickets.
Alas, it was a good Purim joke, and if The Stones do make their maiden voyage to Israel, it's unlikely that The Jewish Press will scoop everyone else with it. But let's thank them for providing us with some hope, and a little levity, on this festive Purim day.
Purim is here and spring is in the air! Granted, as on Purim every year, it will rain but right now the weather is still balmy and dry, and kids of all ages are out on the streets, wearing costumes and celebrating the moment.
And speaking of this moment, This is Now TLV is on fire! We've written before about this website, which streams Instagram photos marked with the hashtags #thisisnow and #tel-aviv but today's photostream is more active than ever. Purim is clearly the holiday for taking pictures of yourself, your friends or your pets in costume, holiday food and drink, street celebrations, parties and just plain fun.
Below is a small sample of what was happening at 1:00 PM on Purim 2013 in Tel Aviv. Click on the image to see what's happening right now! And if you've got a Purim photo to share with This is Now TLV, take a another minute to submit it to the Israel21c photo competition before it closes on Monday — show the world that Israel loves a good party!
Show us the Israel you love is a photo competition being held by ISRAEL21c, the parent site of Israelity. The contest, which opened this week on Facebook, invites anyone who loves Israel to submit photos expressing that feeling: images of fun in Israel, happy times with friends or family, things that make you laugh, crazy stunts seen or done, or beautiful things spotted.
The best shots will be featured on ISRAEL21c and will be included in a special movie to celebrate Israel's 65th birthday in April.
There are prizes as well: a Mini iPad, a $100 Amazon Gift Card and $50 Amazon Gift Card.
The contest is open to persons 13 years of age and older from Australia, Belgium, Canada, France, Germany, India, Israel, Netherlands, Spain, United Kingdom, and United States. More details are available on the ISRAEL21c Photo Contest page on Facebook, where all the entries are also on view.
Today, we present a few of the entries. To be clear, these are entrants, not winners, as the contest is still ongoing. Their presentation in this article is not an endorsement. I am not a judge in the contest nor am I involved in any way in the judging process.
Also, in the interests of full disclosure: I entered a photo in the contest not because I am eligible to win (I am not) but to make sure that the upload mechanism was easy to manage. Which it is. So, no excuses! Enter today!
The first photo to be submitted: Israeli rocker Berry Sakharof doing what he does best…
Berry Sakharof acoustic jam session. Photo by Ben Jacobson
There are professional submissions like this one by Rick Blumsack (who's been featured in Foto Friday) of a painter at work in Jerusalem's Mahane Yehudah market…
Art in the Shuk. Photo Rick Blumsack
Contributions from talented non-pros…
Slip sliding at Philip Farm. Photo by Viva Levy-Press
Amazing futuristic images…
Marina Herzliya port. Photo by Jasmina Mitrovic
Historic snapshots, like this one of Israel's first Prime Minister Ben Gurion and wife Paula.
Ben Gurion and wife Paula. Photo by Naomi Kayne
Images the capture the Israeli experience with a touch of humor…
Sights On The Beach. Photo by Lori Gauthier
And "it could only happen here" shots. If you know Israel, you know whether the city is old, new or ancient, there are street cats everywhere. Or, as it turns out, almost everywhere…
The only cat we saw at Masada. Photo by Laura Brodie
The contest's closing date is February 25, so there's still plenty of time to get your own submissions in. For more details visit the ISRAEL21c Facebook page.