As she tells Curt Schleier in The Forward's Shmooze blog, she led the life of a fairly regular Israeli teenager until winning the Miss Israel pageant — although she was clearly heading in that direction for a while. She then modeled for three years before serving her full two years in the IDF as a fitness instructor.
After finishing her army service, Gadot was cast for Fast & Furious, the fourth installment in the series, and she told Schleier that director Justin Lin used her weapons knowledge to good effect in the film:
Giselle is not Israeli. How was it decided to now have it that she worked with the Mossad?

You don't have to be an Israeli to work with Mossad. [Director] Justin Lin and I knew we were going to work on [three films together], and we wanted her to evolve. I think the main reason was that Justin really liked that I was in the Israeli military, and he wanted to use my knowledge of weapons.
According to IGN's Babe of the Day posting, Gadot is "not only an ass-kicking action movie hottie, but she's got the skills to back it up. At just 25 [now 26], Gal Gadot has already served in the Israeli Defense Forces and now as our Babe of the Day."
IGN notes that the world began taking notice of Ms. Gadot after being featured in Maxim Magazine's "Women of the Israeli army" photo shoot, when her photo was featured on the launch party invite and then on the cover of the New York Post.
Good luck to Gal.
Speaking of weddings, both personally attended and gawped at, as in Wills and Kate, it's wedding season in Israel, well, worldwide, really. In fact, my own wedding anniversary is quickly approaching, and I remember well both the ups and downs of planning that particular event.
These days,
Israeli weddings
run the gamut, and much like the
reality bride show Four Weddings
that I 'happened' upon the other day while working out — I promise — every couple has a very different vision for what a wedding should be.
That said, you still may need some help to make it all happen, and that's where wedding blogger Tracey Goldstein steps in to help with her Hatunot (that's weddings in Hebrew) blog. The site is geared for English speakers in Israel who may not know where to start when planning their big event. Hailing originally from New York where she owned an event planning company, Tracey made aliyah last summer. The blog has a pretty full list of wedding venues, photographers, videographers, makeup artists, caterers, bakers as well as a daily blog about Tracey's finds in the Israeli world of weddings.
Israelis still like to get married, and young — the age of Israelis getting married is younger than in most western countries according to the Central Bureau of Statistics — at the average of 27.5 for men and 24.7 for women, and when they do, they do it up, with
big dresses
, lots of guests, 600 is average, and a big party. That said, things are changing, including using Friday mornings as a popular wedding time, which makes for a more casual event, and more alternative sites, as in the one David wrote about recently, as well as a different approach to what constitutes a wedding. And that's without touching the issue of the
state, religion and weddings sanctioned
by the chief rabbinate.
Enjoy any weddings you may attend this season, and if you need help, turn to Tracey.
Ever since time began, or at least since I've lived in Israel, one of the national junk foods has been the crunchy, sweet, chocolaty wafer snack called 'Vafels.' They're as Israeli as sabras, Bamba and botz.
While most people call them vafel, evidently they're also known in some circles as 'bafels.' However you call them, in recent years, with the proliferation of dozens of other junk foot items, the sale of the wafers began to sag.
Saatchi & Saatchi Tel Aviv solved the problem by launching a viral ad campaign to solve the age old problem of whether to call the wafer Vafel or Bafel.
I don't know where I was, but I missed all the hoopla, which according to this Youtube recap spread to TV shows, radio talk shows and newspaper columns. In response to a survey which overwhelmingly favored Bafel, Elite changed all their packaging accordingly.
See the strange story in its entirety here.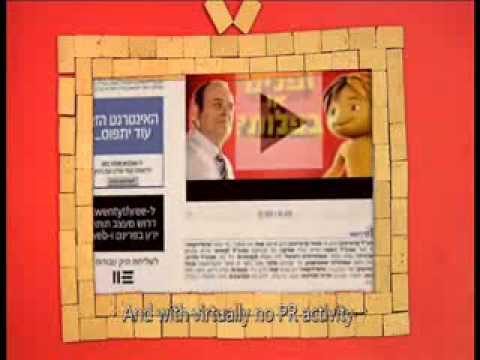 In Israel, we know that under that IDF uniform is … us – our ordinary selves, our children, neighbors and colleagues, all for better or worse. But to the outside, we seem like a lethal force that is justifiably fighting Hamas in the South, Hezbollah in the North and getting into all kinds of tangles in the West Bank.
That's why a group of former soldiers who now do their annual reserve duty have decided to launch a PR initiative in order to show a different – gentler and kinder – side of the army.
Their website – Friend a Soldier - invites vistors to bombard them with questions about anything – their service, their lives, their political views and their feelings.
The organization's founder, 24 years-old Daniel Nisman, told Shalom Life that "many people see soldiers as nothing more than a uniform. I wanted people to see the human side of the IDF."
Friend a Soldier is an interactive website that essentially allows users to ask the former Israeli soldiers, who now act as goodwill ambassadors, anything that is on their minds whether it's about their service, the army life or the army's legitimacy as well as the Middle East conflict, Israeli politics and more.

The visitors who want to ask a question pick an ex-soldier (each with his own expertise) and then submit their question. That soldier then responds to the question, as best as he knows how to, based on his knowledge and personal experience. The site is not affiliated with the IDF nor the government and the views expressed on it don't represent official army policy.
So, if you always wanted to find out how to make 'botz,' the right amount of chocolate spread for that perfect midnight sandwich snack, or want to get serious and get inside the heads of Israeli soldiers on the front lines of defending the country, give Friend a Soldier a try.
Not quite talented enough to shoot for a career in the NBA, Jaques decided to take a year before getting on with his life by signing a year-contract with Ironi 'Eldan' Ashkelon in the Israeli Super League, where he's spent the last three months.
In a long, insightful first-person account for the American sports bible Sports Illustrated, Jaques has written about his experience going from playing last year in the cavernous Carrier Dome to the "the cramped, cookie-cutter gyms of Israel."
…while Ashkelon and Ithaca, N.Y., may be similar in size, the similarities end there. If moving to Tel Aviv or Jerusalem for a whole year is a culture shock, then moving to Ashkelon is the equivalent of a cultural ice bath. In a lot of ways, Ashkelon is unlike the bigger, more citylike parts of Israel, and for that reason the cultural adjustment to living here is probably as big as it could have possibly been. But the small-town feel of Ashkelon is one of the characteristics I appreciate most.

Ashkelon basketball fans, like I'd imagine most fans of small-town/lower budget European teams, are extremely passionate about the team. They are everything a basketball player could ask for in a fan base: loyal, proud, and feverishly supportive. The fans, which are mostly made up of adolescent boys, travel to all away games, bang drums in the stands, paint their chests and blow vuvuzelas. They pack the energy and enthusiasm of European soccer into basketball arenas wherever we travel.
However, Jaques is not wearing rose-tinted glasses, as he continues…
On the flip side, like most Israelis, they are also not shy about voicing their displeasure when things don't go well. It's wrong to call it rudeness, but some Israelis possess this unbridled honesty that enables them to ask questions and make comments that many Americans would keep to themselves. For example, after we lost our opening game of the season to local rival Ashdod, I returned home to order a pizza. Before handing me my food, the deliveryman greeted me with, "It's you! How'd you guys lose tonight? I was embarrassed to watch the game." That's pretty bold coming from a man whom I had yet to tip, but that is the reality of life as a professional basketball player.
Go here to read Jaques' full account of his eye-opening experience in Israel.