Despite it's esoteric theme – a rivalry between two esteemed father and son Talmudic scholars, "Footnote," by writer-director Joseph Cedar, was selected among entries from 63 countries to compete as one of the five Oscar finalists – and that's because it's a great film and Cedar is a great filmmaker, as anyone who saw his other Oscar entry Beaufort, can testify.
JTA interviewed Katriel Schory, the executive director of the Israel Film Fund, the body that funds Israeli moviemaking, about the huge leap Israeli cinema has made in the last decade or so, as witnessed by ongoing victories at prestigious international film festivals, as well as the Oscar nods. He cited the new generation of directors who learned their craft at one of the 14 film schools in the country, as well as their ingenuity and creativity at developing scripts and screenplays that don't require big budgets.
"There are beautiful things about Israel and there are some ugly parts, like in any other country," Schory said. "What our films show is that we are not just about CNN bulletins and newspaper headlines, but that we are a complex, multifaceted society. We are not a one-track country."
So let's enjoy the Oscars on Sunday, and if Footnote wins, we can also enjoy in the historical event of witnessing the first Israeli film to win the award. Our thoughts are with Mr. Cedar.
Maybe it's the geopolitical situation, maybe simply the truncated of month of February. Whatever the reason, it feels like time is moving faster and faster.
In previous columns, we've viewed Israel through the stereoscopic lens, through cyan and red 3D anaglyphs, 3D still images and even cutting-edge 3D video. Today, in keeping with our sense of time speeding up, we'll look at Israel through the time-lapse photography lens.
Time-lapse photography, as Wikipedia has it, "is a cinematography technique whereby the frequency at which film frames are captured (the frame rate) is much lower than that which will be used to play the sequence back. When replayed at normal speed, time appears to be moving faster and thus lapsing."
Production company Highlight Films has created a 180-second tour of Israel…
Vitaly Viazovsky gives us Jerusalem scenes…
Time-lapse fascinates videographer Amos Rafaeli…
And videographer Eugene Azerbouf created this tour of Tel Aviv's Yarkon River park…
Sunset Timelapse in Israel by videographer Carolyn Moreau is a 15 second video postcard captured this past winter in the Galilee…
You can read more about how Moreau took the shot on her blog. All Highlight Films footage available for licensing. Contact: archive@highlight.co.il.
Who would have thought that some of the finest, most energetic rock & roll shows to take place in Israel in this still young year would come courtesy of the US State Department?
I guess they're getting as fed up with dealing with the Iranian nuclear threat and the stalemate in Israeli and Palestinian progress as we are. But seriously, the cultural department of the American Embassy in Tel Aviv outdid themselves this week in hosting a State Department's Cultural Envoy program featuring the talents of the all-female New York-based country-rockers Antigone Rising.
The New York-based quartet is the missing link that connects the quintessential Americana sounds of the Dixie Chicks, Sheryl Crow and Martina McBride with the spunky pop rock of 1980s all-female bands like The Bangles and The Go Gos. The results, according to the Allmusic.com's assessment of their latest album 23 Red is "decidedly smooth adult pop" that's "almost old-fashioned in its celebration of songcraft."
As part of their whirlwind, weeklong visit to Israel, the band is giving free concerts and conducting workshops around the country. Slated appearances included performing for Jewish and Arab high school students at Kaye College in Beersheba and conducting workshops at Beit Issie Shapiro in Ra'anana, the Tabita school in Jaffa, and the Ni'lin village in the West Bank.
In addition, there are full-fledged free concerts in Jerusalem which took place on Tuesday and in Tel Aviv on Thursday night at the Rothschild 12 club in Tel Aviv. Then they move on to the West Bank, where Palestinians in Bethlehem and Ramallah will hopefully locate their inner country music roots and welcome the band with enthusiasm.
Appearing at the brand new and beautiful Meit Massie Theater in downtown Jerusalem on Tuesday night, they were phenomenal – despite a small turnout due to last-minute publicizing of the event. The 80 souls who did make it to the free show were treated to a standout performance, featuring three-part harmonies, great musicianship, showmanship and good cheer.
Speaking to the band and their manager afterwards, it was clear that they were enthralled to be in Israel for the first time.
"Our minds have been blown," said bass player Kristen Henderson, who along with her lead guitar-playing sister Kathy, founded the band almost 20 years ago.
That's Israel – our little mind-blowing country. But on the same count, if you want to have your mind blown, take advantage of the best free show you'll ever have the privilege of attending – tonight in Tel Aviv.
Here's a taste of Antigone Rising.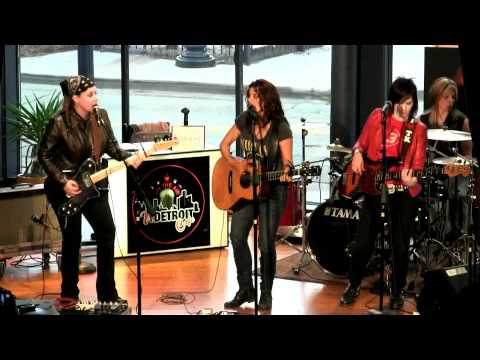 I've always liked the Nachman Gutman Museum in Tel Aviv's gentrified Neve Tzedek neighborhood. It's small, just two floors, and exhibits just a portion of this well-known artist's works, many of them related to Tel Aviv and the pre-state period. The paintings, many of them oils, are of subjects that feel so familiar and close by, and I'm not even from Tel Aviv. It's also in what was formerly known as the Writer's House, as from 1907 to 1914, the building was used as the editorial offices for the Ha-Poel Ha-Tzair newspaper, as well as the residence of editor Yosef Aharonovitch, his wife, author Dvora Baron, and author Joseph Hayyim Brenner. So clearly it has a familiar feeling to the writer in me.
Why am I mentioning the Nachman Gutman Museum? Because of a happy coincidence that took place last weekend. We were in Tel Aviv for Shabbat with family and friends, and had spent time Friday at the Carmel shuk, eating hummous and buying treats and then hanging out and relaxing. On Shabbat morning, some of us wanted to go to shul, while others were happy to walk on the beach or in nearby Neve Tzedek (it was next to our hotel and is considered to be the first Jewish neighborhood of Tel Aviv outside Jaffa). We knew that there was a Masorti synagogue, Kehillat Sinai, in Tel Aviv. (Full disclosure: My BIL is a Conservative rabbi.)
We also knew that said Masorti shul was supposed to move to new digs in Neve Tzedek, at the new Schechter Center for Jewish Culture, which is otherwise known as Beit Lorenz, an historic Templar building where writer S.Y. Agnon once sat and drank coffee.
But as these things happen, the building wasn't completely ready yet, and Kehillat Sinai is temporarily meeting at the Nachman Gutman Museum, which is just across the street from the rabbi's house. I could not have been happier. This way, I could get in some shul, visit the museum and show it to my friends, and be in Neve Tzedek.
We strolled over, enjoying the narrow streets and gentrified but still elegant architecture of the neighborhood. When we got to the museum, I realized that the shul is using a meeting room, but the museum is open on Saturdays — this is Tel Aviv, not Jerusalem — and you have to buy tickets to get in, as usual. Clearly, it would've been too easy to go to shul and get to see a favorite museum. So I sat in shul in any case, enjoying the mixed crowd that Kehillat Sinai draws, including some tourists, some transplants and a few Israelis who have clearly returned to religion the Masorti route. And what was most amusing was seeing the odd-museum goer walk in, buy tickets (at the gift shop next to our 'sanctuary'), and then stick their heads in to the shul to stare and clearly wonder, "What is going on in here?"
To be a Jew, in shul, in a public manner, in Tel Aviv, can be awkward. Particularly when it's viewable to those who are not doing the same. But the flip side was how right it felt to be using this building for yet another purpose, and that it all works. You can spend your Shabbat strolling, museum hopping, praying or some combination thereof. I felt Gutman would have approved.
There's been a soft spot for Houston in Israel ever since a visit she and her then-husband Bobby Brown made here in 2003, a stay that was at once endearing and surreal much like Houston in the last couple decades.
After Houston's death, local media recalled the six-day visit, in which Houston and Brown met with the Black Hebrew community in Dimona, traveled to Eilat and the Galilee to a baptism spot and later met with then-prime minister Ariel Sharon, telling him that she felt at home in the country.
According to The Jerusalem Post's account, Wearing bright red African clothing, Brown and Houston – who was then 39 – told Sharon they planned to come back and record a Christmas television special here – a promise she never fulfilled.
There were also reports that Houston was going to record an album with the Black Hebrews, who first settled in Israel in 1969 and became known for its gospel choirs and singing groups.
After Houston's death, Ben Ammi Ben-Israel, the leader of the 2,500-strong Black Hebrews said on TV that he considered Houston his "spiritual daughter." Ben-Israel said Houston was a source of pride for his community. He said he recently invited her back to Israel "to help her overcome her problem."
However, that never took place either. And instead, all the Black Hebrews and the rest of Houston's multitude of fans are left with is her rich catalogue of music and their memories of her.