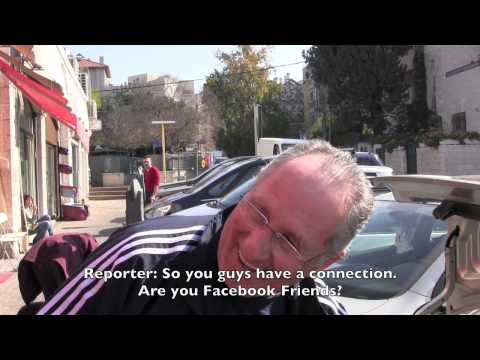 It's finally come down to the wire, and on Tuesday, Israelis go the polls to choose the next Knesset and the players who will form the next government.
Prime Minister Binyamin Netanyahu and his Likud Beytenu coalition is still considered a heavy favorite, but who his coalition partners end up being is totally up for grabs. In fact, it seems like many Israelis are still going to do eeny meeny mine mo when they enter the voting booth, if they go at all. "I don't know" has become the catch phrase when someone is asked who they're voting for – and in Israel, unlike in the US – it's perfectly socially acceptable to ask someone who they're voting for.
The members of the Jersusalem-based comedy troupe Hahafuch knows that, which is why they took to the streets to make this clip posted on YouTube.
Composed of olim from around the world, their next live improve show is taking place at Beit Avihai on Wednesday night and on January 30 (their debut was snowed out in the big storm of 2013). It's being directed by Gary Rudoren, a veteran theater director in Chicago, who made his way to Israel to accompany his wife Jodi, the New York Times' Jerusalem bureau chief and their five-year-old twins.
The show will have a lot to make fun of after Tuesday's elections. With the lineup of candidates as it is, and the serious issues facing our country, it might be the best policy to just sit back and laugh. Happy election day!
In time for this week's elections, Israel's National Library has launched Election Chronicles, an online exhibit of archived historical election propaganda, news media and ephemera.
The exhibition organizers write, "For the most part, elections are not recorded in the annals of higher culture such as literature or art, but in ephemera that attest to the mainstream nature of the event. These manifestations take the form of print, radio and television propaganda, and in more recent years, Internet propaganda."
"They constitute an authentic reflection of the zeitgeist: the conflicts of opinion, the emotional intensity, modes of expression and even changing linguistic trends and current slang. They revitalize the past, eliciting nostalgia from the older generation and curiosity from the young."
The exhibition focuses on four issues: the Arab-Israeli conflict, including wars and peace agreements; economic policy, from Socialism to free enterprise; the internal tension inherent in Israel's status as a Jewish state; and various social issues that have arisen at different times, including ethnic, nationalist and class-based conflicts.
It also includes some facts about key elections illustrated by campaign posters. For example, the first elections to take place in Israel in 1949, which were for the Constituent Assembly (the Knesset). It was also the first in which a women's party took part.

The hot-button topics for the 1959 elections: Mapai (Labor) party infighting and the question of "Who is a Jew?". The Herut party (today's Likud) portrayed Mapai as being divorced from reality and the problems of the poor.
1961 saw a dramatic improvement in graphics as in this poster where the National-Religious Front accuses Mapai of suffering from a Napoleon complex.
1977 was the year of Menachem Begin and Likud's upset victory over Labor.
Meretz, the citizens' rights party, has always lobbied for personal freedoms, as in this Pop art inspired poster from 1996 highlighting the wage gap between men and women.
Election Chronicles also contains materials pertaining to political issues predating the establishment of the state that are carried through to the election campaigns presented here: disputes between the old and new Zionist establishments, between civil groups and the Labor party, between Jews and Arabs, between the various underground movements during the British mandate period, and so on. Alongside these are publications related to elections for other bodies: community councils, the National Council in the Mandate period, local councils, the Histadrut and workers' council, etc.
The National Library collection also contains invaluable documentation about daily life in Israel. After voting on Tuesday, take a look. It's well worth the time.
The police surmised that Beduin robbers have been scaling the hills outside the city and finding vacated apartments and houses in the religiously observant area whose inhabitants are dining elsewhere for the evening. They quickly cut the window bars, sneak in and make off with what they can carry – laptops, phones, jewelry.
Some of the neighbors have started a patrol, especially on Friday nights, to look out into the desert and spy any coming intruders. Our host is one of the coordinators and just as we were digging into the scrumptious desert, his walkie-talkie went off.
Evidently, the resident on patrol had seen someone actually coming up the hill, scaling the fence and heading toward a home in the neighborhood. Faster than you can swallow a bite of brownie, our host was out the door, on his bicycle and headed toward the scene.
When he returned 20 minutes later, he filled us in on the case. He and his partner arrived at the home that the lookout had indicated seemed to be the target. Closing in on the front door, he pulled his gun and prepared to try the door. To his surprise, it wasn't locked, so he decided to burst in, expecting to find a crime in full frontal action.
Instead he found a dozen family members and friends finishing their Shabbat meal, somewhat taken aback by their neighbor barging in with a pointed gun.
After leaving the surprised family to finish their Shabbat meal, the search team spent a few more minutes outside in the dark, looking for clues, eventually concluding that the intruder must have been scared off.
Back at home, the host shared the story and we all got a good laugh out of it. And we even saved him some brownies.
A new exhibition, Motherhood Album, opened this week. Curated by photographer Shai Ginott, it presents snapshots of mothers and their children who — like Ginott's own daughter — are autistic.
Ginott's photographic series, Going your Way, my Way, is part of the exhibition. She calls it "a glimpse into the world of an autistic girl, through her mother's eyes".
Ginott started her career as a successful nature photographer, author and lecturer. In her own words, "I pursued photography as a way of raising awareness to nature and the environment." But it was in 1997 that Ginott's life took an unexpected turn when her daughter, Noa, was diagnosed with autism. She writes, "For over 15 years now, autism has been leaving its mark on my life."
Over time, Ginott's subject matter also changed. "My professional shift in focus, from nature and landscape photography to employing photography as a mean of raising awareness to autism as well, reflects my own changing priorities."
"Current statistics reveal that one in 88 children born today is diagnosed with an autism spectrum disorder. According to these statistics, Israel sees at least a thousand children a year."
"Like many in my community of families of autistic children, I have experienced misguided perceptions, intolerance and social isolation. Luckily, I have also met some people who reached out, if only for a moment."
Ginott, too, reached out. Driven by her belief in using photography as a powerful tool for raising awareness, she organized a workshop for mothers of autistic children. The initial goal of the group was to share photographs, and with them stories of living with autism. But unlike conventional family photos of good times and happy memories, for these women, the photos raised other emotions. A video on Ginott's YouTube channel presents the group in depth (Hebrew-language only).
"Pain emerged right at our initial leafing through our family albums. It made us go back to the moment of receiving the diagnosis and the grueling therapeutic journey that ensued, as well as to the family, which either stayed or drew away. Our albums feature few, if any, friends and social relations of our children at any age. The body language in the photos, as in life, is not communicative."
Ginott's vision is "to use exhibitions, information and lectures to unite friends and bring about a change in the government policy regarding the needs and rights of autistic people and their families," and the group's ultimate goal was a photo exhibition. During the course of the workshop, the mothers discussed, selected and re-selected those images that were significant to her and each woman created her own "motherhood album". The hundreds of photographs became the raw material for the Motherhood Album exhibition.
With the notable exception of Ginott's work, most of the exhibition photographs are not professionally done. But what they lack in technique is made up in emotional force. "Can autism really be kept out of the family album?" Ginott asks on behalf of the group. "Do we really want to have memories deleted from our lives as well as our children's, to cover up evidence of our complicated motherhood?"
"Excited, fearful, bravely and with a sense of mission, we invite you to get a glimpse of our lives, observe all that is visible and respect the invisible."
The Mothers on Motherhood exhibition is on display in the lobby of the Bank Mizrahi Tefahot Building, 7 Jabotinsky St., Ramat Gan through March 31, 2013. Shai Ginott conducts workshops for parents of children on the autism spectrum and delivers lectures on a variety of subjects, including talks on autism designed for parents, teachers, care professionals, special education students and schools with special needs classrooms. For more information, visit shaiginott.com
All photographs are copyright of Shai Ginott and are presented courtesy of the photographer.
I'm not sure what's more impressive – Israeli contestant Shira Gavrielov's successful audition on American Idol, or the fact that judge Maria Carey apparently has been brushing up on Hebrew.
Gavrielov is the daughter of veteran Israeli rocker Mickey Gavrielov, bassist of the '70s legends The Churchills and longtime solo favorite. Shira inherited her father's genes and by age 17 was recording and releasing music in Israel. She moved to New York when she was 19 and is pursuing a singing career.
When she walked on this week for the audition, Carey, who's judging the show this year along with Randy Jackson, Keith Urban and Nicki Minaj, greeted Gavrielov with "Shalom" and "Shana Tova."
After her a capella rendition of Amy Winehouse's "Valerie," Gavrielov received the thumbs up from all four judges, with Carey exclaiming "Sababa," the Israeli term for all things cool.
Gavrielov is on her way to Hollywood for the next phase of the Idol process and Israel might have its very own Sabra contestant in this year's competition. And we'll get to hear more Hebrew from Mariah.