It was like Yom Kippur for runners: all the main streets in our neighborhood have been blocked off; no cars are on the road, just people – thousands of them – filling Emek Refaim Street, Yehuda, Elazar HaModa'i, Kovshei Katamon, all participating in the third annual Jerusalem Marathon. And there, along the sides of the course, were hundreds more people cheering the runners on, yelling out encouragement, blasting through megaphones and cranking up those annoying foghorn noisemakers. Across from the post office on Emek Refaim, a disc jockey had set up and was playing an early morning set of trance and disco music.
Three years ago, I ran in my first and only marathon – actually, only the 10K part. It was supposed to be the first of many but a leg injury has sidelined me from running of any sort since (my exercise is now low impact on our home elliptical machine). So this year, I came to watch. And it was something, indeed.
I heard the cheers already from our house, about a block from the train track park in Baka where the runners had rounded the corner and were heading toward the old train station. I did my one equivalent of a Marathon pose and sprinted out with the dog to go see.
It was 9:30 AM and those doing the full Marathon were pushing through our neighborhood past the big sign that said "Kilometer 29."
Here's what they looked like in video: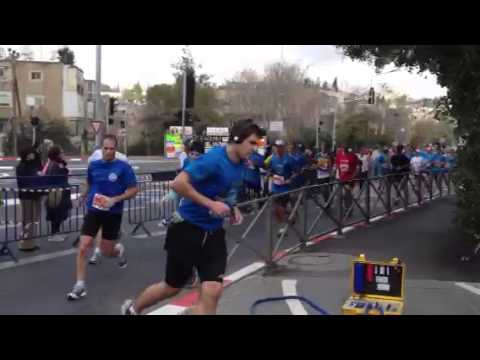 "Only 13 more to go, you can do it," a foreign camerawoman called out as she snapped what she hoped would be a satisfactory photo for her bosses back home. The runners looked remarkably coiffed given how far they'd already come (their part of the race started at 7:00 AM). I decided to give the dog a long walk and do a few errands – buy the Friday paper, pick up the challot. By the time I was on my way home, there were still some stragglers on the course, close to an hour behind in time from the front-runners. They looked decidedly less poised.
Still, there is something about running in a race that is different than exercising on your own. There's making good time, of course. But it's more than that: being part of a crowd where everyone has a similar focus gives you extra energy; allows you to go farther. The endorphin release is faster and more prolonged.
The Jerusalem Marathon is not one of the top ones in the world – the intense hills of the city make it hard for runners to best their times from other races. But it is unquestionably one of the most beautiful. The route runs through thousands of years of history, from the starting point near the contemporary Supreme Court to the many vistas of the ancient Old City. Runners will pass by stately Arab and Templar homes in the German Colony and the uber-modern light rail along Jaffa Street. This year, 20,000 runners registered, compared with, say, the New York Marathon which had more than 45,000 participants in 2010
But for most of the faces I saw on the streets this morning, size, hills and status were less important than just having a good time and achieving a goal that takes training and persistence. To this years runners, let me borrow that megaphone and call out Kol HaKavod – great job. You make our city, our country (and yourselves) proud.
A new exhibition, Motherhood Album, opened this week. Curated by photographer Shai Ginott, it presents snapshots of mothers and their children who — like Ginott's own daughter — are autistic.
Ginott's photographic series, Going your Way, my Way, is part of the exhibition. She calls it "a glimpse into the world of an autistic girl, through her mother's eyes".
Ginott started her career as a successful nature photographer, author and lecturer. In her own words, "I pursued photography as a way of raising awareness to nature and the environment." But it was in 1997 that Ginott's life took an unexpected turn when her daughter, Noa, was diagnosed with autism. She writes, "For over 15 years now, autism has been leaving its mark on my life."
Over time, Ginott's subject matter also changed. "My professional shift in focus, from nature and landscape photography to employing photography as a mean of raising awareness to autism as well, reflects my own changing priorities."
"Current statistics reveal that one in 88 children born today is diagnosed with an autism spectrum disorder. According to these statistics, Israel sees at least a thousand children a year."
"Like many in my community of families of autistic children, I have experienced misguided perceptions, intolerance and social isolation. Luckily, I have also met some people who reached out, if only for a moment."
Ginott, too, reached out. Driven by her belief in using photography as a powerful tool for raising awareness, she organized a workshop for mothers of autistic children. The initial goal of the group was to share photographs, and with them stories of living with autism. But unlike conventional family photos of good times and happy memories, for these women, the photos raised other emotions. A video on Ginott's YouTube channel presents the group in depth (Hebrew-language only).
"Pain emerged right at our initial leafing through our family albums. It made us go back to the moment of receiving the diagnosis and the grueling therapeutic journey that ensued, as well as to the family, which either stayed or drew away. Our albums feature few, if any, friends and social relations of our children at any age. The body language in the photos, as in life, is not communicative."
Ginott's vision is "to use exhibitions, information and lectures to unite friends and bring about a change in the government policy regarding the needs and rights of autistic people and their families," and the group's ultimate goal was a photo exhibition. During the course of the workshop, the mothers discussed, selected and re-selected those images that were significant to her and each woman created her own "motherhood album". The hundreds of photographs became the raw material for the Motherhood Album exhibition.
With the notable exception of Ginott's work, most of the exhibition photographs are not professionally done. But what they lack in technique is made up in emotional force. "Can autism really be kept out of the family album?" Ginott asks on behalf of the group. "Do we really want to have memories deleted from our lives as well as our children's, to cover up evidence of our complicated motherhood?"
"Excited, fearful, bravely and with a sense of mission, we invite you to get a glimpse of our lives, observe all that is visible and respect the invisible."
The Mothers on Motherhood exhibition is on display in the lobby of the Bank Mizrahi Tefahot Building, 7 Jabotinsky St., Ramat Gan through March 31, 2013. Shai Ginott conducts workshops for parents of children on the autism spectrum and delivers lectures on a variety of subjects, including talks on autism designed for parents, teachers, care professionals, special education students and schools with special needs classrooms. For more information, visit shaiginott.com
All photographs are copyright of Shai Ginott and are presented courtesy of the photographer.
Over the years, ISRAEL21c has written many times about Save A Child's Heart (SACH). But quite honestly, there can never be enough mentions of this amazing Israel-based international humanitarian project, whose mission is to improve the quality of pediatric cardiac care for children from developing countries suffering from heart disease and to create centers of competence in those countries.
Photo by Nati Shohat
To date, SACH has treated more than 2,900 children suffering from congenital and rheumatic heart disease, aged 0 to 18 years of age — most recently one and a half year-old Clairia Irangabiye of Burundi, the 43rd country on the SACH roster.
SACH patients are brought to Israel to be treated at the Wolfson Medical Center in Holon. Approximately 50% of the children are from the Palestinian Authority, Jordan, Iraq and Morocco; more than 30% are from Africa; and the remaining are from Asia, Eastern Europe and the Americas.
Photo by Natalie Behring
Most patients have their medical costs covered by SACH and its partners, from the moment the child comes into care and until they have fully recovered – even if they require a lifetime of check-ups.
Photo by Natalie Behring
A few years ago, SACH initiated a follow-up project, to contact their former patients and get updated on their current health and life.
Yared Worde of Ethiopia, whose life was saved by SACH in 1999, is today principle of the School of Saint Yared in Addis Ababa, which fights poverty through education of 100 of the city's poorest and under-privileged children.
SACH has also been aided by volunteer photographers including Eli Gross, who curated From Art to Heart, a traveling exhibition that fosters awareness of the program and raises funds around the world.
Check out this online version of the photo exhibition. To learn more about SACH, contact them at saveachildsheart.org.
Over the past decade, Israel21c has written dozens of articles about Israeli advancements in healthcare and medical research. A hefty percentage of these mention the word "Hadassah" because, in fact, Hadassah — the hospital and the organization that funds it — are all but synonymous with healthcare and medical research in Israel.
Hadassah's Centennial Convention opens tomorrow in Jerusalem — a nice moment to make note of a few of the Women's Organization's many accomplishments and contributions that have benefited healthcare not only in Israel but around the world as well.
Hadassah medical 'firsts' include the first double bypass surgery in Israel (1964), the first successful bone marrow transplant in Israel (1977), first "Test Tube" baby in Israel (1983), first successful heart transplant in Israel (1986), first successful liver transplant in Israel (1991) and the first successful lung transplant in Israel.
In the new millennium, Hadassah's medical success went global, conducting the first computer-guided hip replacement in the world (2004), the first successful freezing of ovaries before chemotherapy treatment (2007) and the first successful pregnancy using ova genetically tested prior to implantation (2008).
Hadassah was also responsible for opening the first ambulatory surgery center in Israel (1986), Israel's first trauma unit (1991) and has pioneered many other innovative and unique medical treatments. In 2005, Hadassah was nominated for the 2005 Nobel Peace Prize for its ongoing initiatives to use medicine as a bridge to peace.
A list of highlights is available online, as is a fascinating timeline of the history of Hadassah. Below, we present a few movies from the Hadassah vault — they serve to illustrate the organization's long-standing commitment to healthcare in Israel, the Middle East and the world.
As Always Hadassah (from The Spielberg Jewish Film Archive)
A Lifeline for Israel – The Hadassah Medical Organization, 1913-1967
Hadassah: In The Midst of Crisis 1967
Hadassah & Israel: A Partnership of Distinction
Hadassah: A Day to Remember
Hadassah: How the Future Was Built
The biblical Seven Species (shiva'at ha-minim) are seven agricultural products listed in Deuteronomy 8:8 as typifying the bounty of the Land of Israel. There are two grains — wheat and barley — and five fruits — grapes, figs, pomegranates, olives and/or olive oil, and dates and/or date-honey (silan), which is alternately interpreted as honey.
At Sukkot, the Seven Species are traditionally used as decorative motifs all over the Jewish world. In Israel, however, they are actually harvested at this season and, like all things Israeli, these ancient fruits of the land are being adapted to the modern world.
Wheat, for example. In 1906, on a trip to Rosh Pina, agronomist, botanist and underground Zionist leader Aaron Aaronsohn discovered wild emmer (Triticum dicoccoides), also known as "the mother of wheat" — one of the first crops domesticated in the Near East. To paraphrase Wikipedia, Aaronsohn's discovery was an important one as emmer (also known as farro) can be grown in areas with poor soil providing countries around the world with the ability "to improve nutrition, boost food security, foster rural development and support sustainable landcare".
More recently, an Israeli evolutionary biologist has found hard evidence of global warming in the changes found in wheat and barley plants. On a more cheerful note, Israeli microbreweries are using wheat and barley to good effect… and according to Israel21c, they've brewed up Pomegranate Ale in time for the High Holidays, too.
Pomegranates have been the subject of medical research in Israel and their juice has been found to help diabetics; its antioxidant properties is also beneficial in skincare — as is olive oil.
Olives and olive oil are major agricultural products in modern-day Israel and related research ranges from biofuel generated from olive pit waste to using brackish water in growing olive trees to fight desertification to creating innovative olive oil-based nutraceuticals and food products.
The land flowing with milk and honey is also fighting the mysterious killer known as colony collapse disorder that has threatened the world's honeybee population as well as researching bee and honey-related medical applications.
Although, in fact, the "honey" referred to in the Old Testament is apparently silan, a sticky-sweet syrup derived from dates. Cultivated in the region since time immemorial, Israeli agronomists were actually able to sprout a live date tree seedling from a 2000 year-old seed while medical researchers have discovered that eating dates can protect against atherosclerosis.
Figs have also been grown locally for millennia as proven by the archaeological finding of an elaborate ancient garden near Jerusalem that housed a wide variety of imported and domestic plants, including fig trees and grape vines.
Today's Israeli wine is far cry from the rough stuff produced by the ancients, or the sugary carbonated swill produced here in the 1970s and early 80s, (glass of Fantasia, anyone?) Last year, Golan Heights Winery was the first Israeli winery to win a Gran Vinitaly Special Award as "world's best wine producer". Although Israel's modern viticulture has roots in California wine country, Napa Valley and Sonoma County are now turning to Israeli technology for help.
As we sit in the Sukkah this year, lets look up at the Seven Species decorations and contemplate these modern miracles.
Olive image courtesy of the JNF-KKL photo archive. All other images: Wikipedia.