After weeks away, I return with an amusing piece of news straight from the pages of Facebook. It seems that subscribers of Bezeq, the country's still somewhat quasi-governmental phone company — that has been hit with a lot of competition over the last years, which is why I don't personally use it any longer — is offering a free daily wake-up call for selichot, the penitential prayers and poems recited daily during the month leading up to the high holidays, through Yom Kippur.
Given that selichot are usually recited between midnight and dawn, and often in the morning before the Shacharit morning service, there's a good number of folks these days who are heading to synagogue extra early. In fact, I don't really need a wakeup call, given that I often hear the shofar being blown at the very small synagogue located just next to my house, where a quorum-plus of men attend each morning, their singsong voices drifting through my bedroom window.
But it's good to know that Bezeq is offering something for free. They gotta, given that nobody's listens to messages anymore.
And here, a quick video of some guys on their way to selichot, accompanying other passengers on Jerusalem's light rail: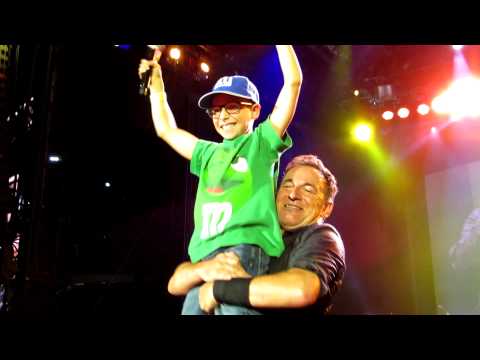 Bruce Springsteen may have passed up Israel on his recent European tour, but there was an Israeli presence at his show last week in Gillette Stadium in Massachussetts.
Springsteen has made it a tradition of plucking a pre-teen out of the audience during his show for a sing-along on his hit from 2002's The Rising, "Waiting on a Sunny Day."
The kids are uniformly thrilled to be up onstage with the Boss, and being near the front row and staunch Springsteen fans, invariable know all the words to the song. But what happens when Bruce chooses a boy from Israel, who not only is attending his first Springsteen show, but has never heard the song before?
The rather comic results are captured for posterity in this YouTube clip which shows Springsteen and young Jerusalem resident Morty Oppenheim engaging in a display on showmanship together.
You can read Morty's father – James' – poignant story of how he, Morty and his family wound up in the front row of the show, here, and how it felt to have his son picked to share the spotlight with the greatest rocker of all.
Shalom kita aleph! Tomorrow is the first day of school. The August date marks a break with a long-standing custom of school starting in September. Traditionally, school in Israel used to start on September 1st and run through June 30th, leaving a meager two months for summer vacation. But that was long ago and much has changed in the educational system since then.
One tradition that remains is shopping for school supplies and it is quite surprising to discover that a few relics from the old days are still in use. Most still hold their charm, except, of course, for Israeli cello-tape, which is still as annoying as it ever was.
As American children suddenly thrust into the Israeli school system, my sisters and I were forced to purchase and use strange and foreign writing implements. Even stranger was the fact that our schoolmates seemed to find these instruments normal. Pencils sans erasers, for example. But this drawback was offset by the amazing pliable gum eraser that combined the wondrous properties of Silly Putty with a practical application: rubbing out mistakes and getting the paper clean.
The paper! In America there was only one kind of paper with lines. In Israel, there was the kind with regularly spaced lines but there was also lined paper for Hebrew writing and graph paper for doing math. The latter was also excellent for doodling and figuring out embroidery patterns during classes.
So many strange customs… like being required to wrap your school books in paper. Having to carry a little tin pencil sharpener instead of the school providing a nice sturdy Chicago sharpener, solidly affixed to the wall in the front of the class for all to use.
And the cellophane tape! Why no tape dispenser? Indeed, almost 40 years later, I am still asking the same question: why just the tape? How many hours and fingernails have I — and everyone else in the country — wasted on picking away forlornly at a roll of cello-tape, just trying to get it going? And cutting it is even worse. Teeth won't tear it. Use scissors, it snaps back and you lose the end… and you're back to square one, picking in vain at the roll.
There were some pluses to buying school supplies in Israel, mainly because it introduced us to German stationery products, which are the best in the world, (as everyone who wasn't boycotting German-made goods apparently knew). Aside from the aforementioned wondrous gum eraser, their magic markers — Israelis call them lordim, which I can only assume is after some brand name like Lord's although I could not find any evidence to back this up — were top of the line. It kind of made up for the crayon situation.
As children who had grown up with 101 Crayola crayon colors — Sea Green! Magenta! Periwinkle! — Israeli crayons were contemptible. The box may have said "pastels" but you couldn't fool us. These were sticks of wax with a bit of dye thrown in. They broke in half and then in quarters. The best and probably kindest thing you could do with them was drip-melt them onto a bottle (this was a big fashion in the 70s, kids).
And yet, I was heartened to find that some stores still stock Astra brand crayons in their flat blue and white box with its trademark globe. Heartened not only for sentimental reasons but also out of local patriotism because there are very few locally made school supplies left on the market; Israel, like everywhere else in the West, has outsourced stationery production to China.
The latest victim of the trend was Dafron, a lone holdout as the last manufacturer of the ubiquitous Israeli brown paper covered school notebook. In May, Ha'aretz reported that "Dafron sold to a foreign company the last of the machines that turned out the brown notebooks. It also sold its envelope-manufacturing operation, which in recent years constituted 80 percent of its output, to a private investor for NIS 10 million.
"The investor is expected to keep on a large proportion of the 40 production workers and move the factory to a different site [in Ariel]… There, a small department will continue to operate, manufacturing special products such as spiral notebooks and hard-cover writing pads. This is all that will remain of the splendid factory that at its peak turned over tens of millions of shekels annually."
The real culprit, however, according to Dafron's Joseph Dubrovsky, was not the Chinese but changes within the school system itself. He told Ha'aretz, "Fifteen years ago I sounded the alarm, when they gave children workbooks and books in which they did their homework directly, instead of in notebooks. In retrospect, that was small change compared to the transition to computers."
And so we move from paper notebook to notebook computer… and still without a normal tape dispenser in sight.
I've encountered many interesting, strange and offbeat people while waiting in the long lines, but have never been lucky enough to experience what my friend Calev did when he went to renew is passport today.
While waiting for his turn, in walked famed actor Sir Patrick Stewart of Star Trek fame. Calev posted the following on his Facebook page:
"The Star Trek star recently arrived in Israel to film a movie and apparently had to work out some documentation issue relating to his US green card. I thanked him for coming to work here – no small matter after several other British actors recently supported a boycott in London of the Habimah Theater. "Thank you, I'm having a wonderful time here," he very genially replied, his stage voice booming through the waiting hall."
The film Stewart is here filming is "Hunting Elephants," by director Reshef Levy. He plays an eccentric British peer who gets involved with a group of Israelis planning to rob a bank in order to save their family home. The movie also stars veteran local actors Sasson Gabbay and Moni Moshonov.
In a press conference he gave upon his arrival two weeks ago, Stewart said that he had wanted to come back to Israel ever since paying a private visit a year ago.
"I told my family and friends that I wanted to come back… I am happy to be here, not as a tourist but as part of an Israeli movie production," said Stewart.
And now, he's integrated into Anglo-Israeli society by having to deal with the US Consulate. Good show, Patrick.
This time, I couldn't think of any good excuses which is how I found myself on a bus at 5:30 am this morning with about 40 other members of our town, including my 11 year old son who goes to every ceremony because of the great spread of pastries and ice coffee smoothies that are there for the taking (and because he actually likes open and joyous displays of Zionism). Most were going to greet friends or family who were landing on the El Al flight from New York.
Because this ceremony – welcoming some 350 new immigrants including 127 youngsters who are part of Garin Tzabar and immediately going into the IDF – was being attended by Prime Minister Binyamin Netanyahu, the security was insane, and many of the attendees actually missed the most emotional part of the morning – crowding the olim as they arrive off the buses that brought them from the plane and welcoming them with song, dance and flag waving into the terminal.
People screamed, cried and laughed as female IDF soldiers stood outside the buses to greet the arrivals before handing them over to the crowd. My wife said that this emotional scene always brought tears to her eyes, and I can see why – it's Zionism in action.
The formal part of the ceremony was less moving – speeches by Nefesh B'Nefesh founders Rabbi Yehoshua Fass and Tony Gelbart, Absorption Minister Sofa Landver, chairman of the Jewish Agency Natan Sharansky, and of course, Netanyahu, who made a point of greeting the future soldiers and inviting them up on the stage with him for a well-placed publicity photo.
The speakers all thanked the new immigrants for coming to Israel and said that their offices were at their service, as was the whole country. I'm not sure if the immigrants will feel that way six months down the line, after experiencing Israeli bureaucracy in full bloom (although it's certainly improved in the 25 years I've been here). But as far as a first day as new citizens in their adopted country, it was a pretty awesome beginning. Even those open and joyous displays of Zionism weren't so bad.