A new exhibit of wonderful old photos by Zvi Oron (Oroshkes) of pre-State Israel opens on March 21 at the Eretz Israel Museum in Ramat Aviv.
The exhibition displays Oron's perspective of the British Mandate years, through photographs that show the construction of Jewish settlements, state and military events of the British administration, and the lifestyle of the traditional Arab population.
Photographer Oron came to the Land of Israel in 1918 with the Jewish Legion. Curator Michal Ben-Tovim writes: "Having already acquired his photographic skills in Poland, he opened his first photography studio in Tel Aviv in 1920.
"Initially, most of his photographic work was commissioned by the information department of the Jewish National Fund. In 1925 he began working for the British administration.
"In 1929, High Commissioner John Chancellor officially appointed him as provider of photography services to the British administration in Palestine. Thanks to this position he was able to move without difficulty between British military facilities, and stay outdoors during curfew hours.
"Because the British trusted him, Oron managed to establish professional ties with the Arab population, and was on friendly terms with Emir Abdullah. He thus became one of the few photographers who were able to photograph the different populations that inhabited Palestine during the British Mandate.
"In a letter he wrote in 1938 to Moshe Sharet, his friend from the Jewish Legion and then head of the Jewish Agency Political Department, Oron described his impressions of the situation in Eretz Israel as reflected in his photos:
"'…When I went over the collection of the photos I published in the press in the past two years, I had the impression that the English were making extraordinary efforts to calm down the situation; the Arabs were revolting, and the Jews were weeping at funerals.'"
"Oron, a sworn Zionist, made an effort to convey a standpoint as objective as possible in his photographs."
"His Jewish origins, his ties with British officials, and the trust he had among the Arabs yielded an outstanding photographic archive, which documents objectively the life in Eretz Israel of that time."
If you can't get to Ramat Aviv in time, there are some lovely examples of his work — including celebrated persons of the time such as High Commissioner Arthur Grenfell Wauchope — on Wikimedia Commons. Enjoy.
We really want to believe it, we do. The reports that Barbra Streisand will be coming to Israel to serenade President Shimon Peres in honor of his 90th birthday may or may not be true, but they're catching on like wildfire.
Yediot Aharonot is to blame, or credit, with the information that the legendary diva will be arriving to open up the Israeli Presidential Conference on June 18 at Binyanei Hauma in Jerusalem. The only snag is that it's not a done deal.
The Presidential Conference organizers responded to the report saying that Streisand had been invited to the conference's opening night and that they would be delighted if she were to accept.
The 70-year-old funny lady, despite being a spring chicken, compared to Peres, has a mutual admiration society going with Israel's president, and they met last year when Peres was in Hollywood.
Streisand hasn't visited the country since 1984 when she came for the Israeli premiere of the film Yentl and in order to dedicate the Emanuel Streisand Building for Jewish Studies at the Hebrew University in memory of her father.
Despite the dodgy aspect to the report, it hasn't prevented breathless Streisand fans in Israel from tweeting and posting queries about 'buying tickets for Streisand's concert.'
Even super tenor David D'or, an acclaimed performer in his own right, told me this week that one of his career aspirations would be to duet with Streisand when she comes on the Yom Kippur classic, "Aveinu Malkeinu," which both have performed. Peres is known particularly to be a fan of Streisand's rendition of the liturgical lament.
Whether the unsubstantiated reports prove to be true, or just another exercise in wishful thinking and creative news reporting, Barbra Streisand fever has taken over Israel, even making people forget that a certain US president is due to land in a few days.
Here's Streisand peforming "Aveinu Malkeinu."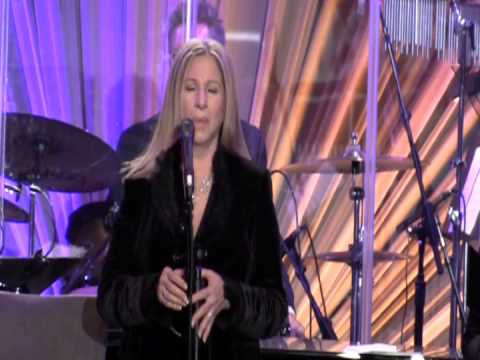 It's a little more than a week away and the frenzy surrounding the upcoming visit to Israel by President Barack Obama is gaining force like a tsunami. I'm not talking about the vital issues that Obama will be dealing with when he meets with Prime Minister Binyamin Netanyahu and other Israeli and Palestinian leaders over the course of his two days in the region – but about the dinners, the traffic jams, the concerts and the events that will transform our little corner of the world into a huge magnifying glass for 48 hours.
Here are a few of the tidbits about the upcoming visit that have emerged over the last day or so.
• Obama will be staying in the venerable King David Hotel, where his entourage will fill all 233 rooms. But not only will a hungry staffer be out of luck if he wants to order a BLT, due to the hotel's policy of keeping kosher, Obama and his team won't even be able to order an LT sandwich. The hotel will have already switched its kitchens over to Passover mode, meaning no 'hametz'. The kosher for Passover rolls and cakes have certainly improved over the years in Israel, but it still made leave somewhat of a bad taste in the mouths of the White House entourage.
• The US Embassy in Tel Aviv has initiated an online contest enabling winner s to attend Obama's keynote speech planned for March 21 at Jerusalem's Binyanei Hauma.
"Want to attend President Obama's speech?" the embassy wrote in Hebrew, English and Arabic on its Facebook page. "Like our page, and in the comments below, tell us why you think we should invite YOU. Up to twenty of our Facebook fans, who submit the most original and creative responses, will see President Obama speak in person."
Within four hours, there were 375 responses from Israelis hoping to win the chance to be among the lucky 20.
• The Prime Minister's Office launched an app to follow Obama's visit in real time. Available though Israel's Apple store, the app is designed to assist journalists covering the visit and allow Israelis to receive real-time updates, including video streaming.
• Singers David D'or and Rita have been chosen to perform at the state dinner President Shimon Peres is hosting for Obama at The President's Residence during his visit. The golden-throated soprano D'or will perform a rendition of the spiritual classic "Amazing Grace", while it's unclear whether Rita will sing songs from her recent excursion to her Persian roots or stick to her Hebrew classics. After all, it's questionable whether as Netanyahu is lobbying Obama to go after Iran's nuclear program that he'll be wanting the president to be hearing peaceful Iranian lullabies. Just another of the many details that need to be ironed up ahead of next week.
Back in my Sheinkin Street days, I was a Cafe Tamar regular. The reasons for sitting there were twofold: first, there were no other cafes on that street at the time. And second, the cafe was a gathering place for all sorts of interesting people; characters in the ongoing street theater that is life in Tel Aviv.
One such Cafe Tamar staple was the cartoonist Yaakov "Zeev" Farkash, whose modest demeanor belied the fierce criticism of his political caricatures and the strength of his distinctive black line that was the hallmark of his work.
My friend the cartoonist Yaakov "Dry Bones" Kirschen, (another Tamar regular), once told me that Zeev worked with dip pens outfitted with metal nibs and a particular kind of black bottle ink [Please see correction below] — I believe it was Pelikan brand. I also seem to recall that when the manufacturer discontinued that particular kind of ink, Zeev ran around town and basically scored every single bottle that remained in stock. All other cartoonists in Israel were left to find other drawing media — and fast.
Zeev is being remembered this week at the Israeli Cartoon Museum in Holon with the opening of two exhibitions, one of government figures, chiefly his portraits of political rivals David Ben-Gurion and Menachem Begin, and another of the Dove of Peace image which figured prominently in many of Zeev's political cartoons.
According to Nissim "Nusko" Hezkiyahu, chairman of the Israeli Cartoonists Association, who curated the Dove of Peace exhibition, "Zeev was able to use the dove image in such a broad, versatile and diverse way that it seemed no less important than the images of personages, peacemakers like Begin, Sadat, Rabin, Peres and others.
"The main relevance of this exhibition lies in the fact that many of the cartoons look as fresh and current as if they were drawn just this morning. Our heroic figures may come and go, but the poor dove remains, the star of our tragic reality. The exhibition is a tribute to one of the great cartoonists we had here … "
The second exhibition, "Through Zeev's Eyes", curated by Liat Margalit, presents 30 sketches and drawings of Israel's first Prime Minister David Ben-Gurion and the sixth Prime Minister Menachem Begin. Margalit notes that the images, done over the 60s, 70s, and 80s, played a significant role in shaping the public's visual concept of the two politicians.
Both exhibitions open on March 15, 2013 and will run through September 28, 2013 at The Israeli Museum of Caricature and Comics in Holon.
---
Kirschen has corrected me on a few points. The ink was India ink, manufactured by either Higgens or the aforementioned Pelikan. And more importantly, Zeev worked with a brush (as in his self-portrait at left) but with such skill that he could render a line as fine as a pen. The ink crisis was precipitated by the manufacturer's diluting of the ink so that it would not gum up the works of the more popular refillable cartridge pens. The thinned out ink made it impossible to make a nice thick black wash – for example, in the picture of the bomb above – hence Zeev's quick action in scooping up the country's entire stock of India ink.
Yosef Adest is a self-described Photographer/Video Producer Entrepreneur, Oleh from the US and Tel Aviv resident. Adest also has a flair for organizing group projects.
Case in point: Fifty-Two Frames on the Second Floor, a new exhibition spearheaded by Adest that opens this coming Monday at Tel Aviv's Cookies Cream Bar. The exhibit features photos from 52 Frames, a project he organized on Facebook, in which photographers from around the world share the best of their weekly work produced according to different themes.
The theme of Love, for example, yielded this image of kissing couple. Adest commented that he'd just met them that same day. "I had them in this 'just about to kiss' pose for about 5 minutes!"
Levitation…

Physics…

Minimalism…

That photo is of Adest's trusty Canon camera (which he uses for for point-and-shoot photos) as photographed by his in-studio Canon 5D Mark 3. He provides online followers with instruction — for example, How to set up an 'infinity white' product shot in less than 10 minutes — and offers critique as well.
52 Frames has a "cousin" project, also organized by Adest, called Photography Project 12, a group of professional photographers who commit to posting one new photo each month, according to a challenging theme, for example practicing the HDR (High Dynamic Range) photo technique, in this case on Dizengoff Street…
Panning…

52 Frames also organizes monthly (more or less) Photo-Walks that are open to the public in Jerusalem, Tel Aviv, New York and Manchester UK.
Photographers interested in joining the 52 Frames group should contact Adest via his Facebook page or website. To follow the progress of these projects, give Yosef Adest Video & Photography a "Like". And to learn more about how he works his magic, take a look at this "Behind the scenes" video of how the "Physics" shot came about.
How I created this anti-gravity shot in a 5 min timelapse. from Yosef Adest on Vimeo.
More examples of his work:

Yosef Adest Video – Demo Reel from Yosef Adest on Vimeo.
BTW, you may remember Adest's name from the humorous Sh*t Anglos in Israel Say viral video that made the rounds in 2012. Just for laughs, here it is again!