One of my favorite things to do is browse at used CD, record and DVD stores. Whenever I travel and go to a new city, I always try to check out the recommended offbeat indie record store.
Spending my college years in Boston, where the breadth and width of recycled vinyl was remarkable, I got used to some pretty high standards. But I have to say that I'm perfectly happy with the Israeli equivalent of Amoeba in LA or Bleecker St. Records in New York, or the late, lamented Nuggets in Boston – Tel Aviv's Ozen Hashlishit (The Third Ear) offers enough varied music and films to satiate any discerning fan's desires.
Once ensconced in the then-hip and trendy Sheinkin Street, the iconic second-hand record store deservingly built its reputation as the one-stop shop for hard-to-find import LPs and CDs from obscure British progressive rock bands, as well as local indie artists putting out their do-it-yourself music.
Today, the Ozen is still that but also a whole lot more – it's an expanding media empire, employing more than 100 people and encompassing a sprawling building on Tel Aviv's King George Street that once housed the Maxim Cinema.
Sure, there are still vintage LPs by Yes and Tangerine Dream, as well as thousands of used and new CDs for sale that will satiate the most particular of music nerds, but there's also the biggest video library in the country, a thriving live music club and café called the Ozen Bar that presents the cream of up-and-coming local and sometimes international talent, and a successful video satellite store in Jerusalem.
The Ozen is celebrating its 25th anniversary this month by hosting The Long Weekend from March 22-24. And it's featuring – what else – music and film. Among the highlights are British singer/songwriter Robyn Hitchcock returning to the Ozen Bar after two superlative shows last year to perform his classic 1990 album Eye in its entirety on March 22. Two nights later, Hitchcock will perform with his occasional side band Venus 3, featuring former REM guitarist Peter Buck. Hitchcock and Buck are also slated to hold a master class for musicians. Other events over the weekend include marathons of live performances by local acts, and a screening of Twenty, the Cameron Crowe documentary on Pearl Jam.
As it enters its next 25 years, it's likely the medium that the Ozen provides its customers will change, as CDs and DVDs disappear for the next big thing. But luckily, they'll still continue to cater to the particular needs of us snobby music and film fans who just aren't satisfied with the next 'blockbuster.' May the Ozen continue to live long and prosper.
A free trip to Israel with all expenses paid and intimate concerts with some of the top musicians in the country. Sound good?
That's why five bloggers from the US and UK — Rebecca Schiller of the New Musical Express, Samantha Edussuriya of MTV Iggy, Luke Britton of This Fake/DIY, Rory Hamilton of Feel My Bicep, and Brandon Bogajewicz of The Burning Ear — jumped at the offer to come to Israel for a week of five-star pampering.
The Kinetis nonprofit group brought them over to show them that Israel has a lot more creative energy than the headlines around the world tend to illustrate.
"Our tours generate significant on and offline 'buzz'… and offer followers of our guests a glimpse into Israeli reality behind what they see on the news and media," writes Kinetis on its website.
Schiller wrote in a blog on NME about the trip that there are "a few unbelievably talented acts nestled away in Tel Aviv that most certainly deserve some overseas attention."
Edussuriya of MTV Iggy said the blog she works for is always on the lookout for new global music and innovative international acts. And that's what was on the menu for the visit here.
It was a packed week with concerts, seminars and one-on-one chats. The bloggers met with the likes of Acollective, Ninet, Useless ID, Orphaned Land, Idan Raichel, Geva Alon, TYP, Tiny Fingers, Ninet, Mira Awad and Ahinoam Nini.
ISRAEL21c caught up with them during a visit to Muzik - School of Creation and Production in south Tel Aviv to chat about music as an international language.  File-sharing and the internet have no doubt helped musicians around the world be heard. But nothing beats face-to-face interaction or jamming together for a real musical relationship to be formed.
Israeli musicians used to be hesitant about singing in English – mainly from the point of view of not being accepted by local fans – but since 2005 there's been a domestic explosion of Israeli artists recording in English and today it's totally acceptable.
Yet even with the internet, the bloggers told me that they knew few Israeli musicians. Their week in Israel has no doubt changed that.
These five bloggers have a combined audience of nine million followers. So, when they meet a new artist they like, chances are someone else is going to read about them as well. And that's always a good thing.
It's hard to overstate the importance of Matti Caspi to Israeli music. Simply put: he is very important. Caspi, who has been on the scene since the early 1970s and released his first solo album in 1974, bridged between old-style Hebrew-language / Russian-influenced popular music and myriad new influences, from rock to jazz to Latin American — writing, performing, producing, arranging, collaborating and conducting — all while creating his own distinctive harmonies and scales. Behind the poker face, as musicologist Tzipi Fleischer puts it (in Caspi's online biography), "is a musical wild man. He is the one who promoted sophistication and western standards to the region."
In addition to his solo work, over the years, Caspi has worked with Israeli artists such as Yoni Rechter, Ehud Manor, Yehudit Ravitz, Meir Banai, Rami Kleinstein, Aviv Gefen, HaParvarim, lyricist Raquel Caspi (who is also his wife), Riki Gal and Shlomo Gronich (more about them in a moment). He's won numerous awards for his work, including the prestigious Kinor David (David's Harp Prize) for cultural contribution. His online bio notes that many of the Israeli songs played on radio today are in one way or another related to Caspi, whether as a singer, composer, arranger or producer. A full biography of Matti Caspi is available here.
One of Caspi's earliest collaborations was Meahorei HaTzlilim (Behind the Sounds), with keyboardist Shlomo Gronich, a musical force in his own right. Meahorei HaTzlilim started out as a Caspi-Gronich stage collaboration and evolved into an album, released in 1973, that's still considered a touchstone in Israeli progressive rock. Since then, the two have reunited for occasional Meahorei HaTzlilim shows: in 1984, 1989, 2002 and now 2012 when the two will perform a benefit concert on March 26 at the Jerusalem Theater on behalf of non-profit Tsad Kadima (A Step Forward), the Association for Conductive Education in Israel.
Tsad Kadima engages in he rehabilitation and education of children, adolescents, and young adults with cerebral palsy or motor dysfunctions. The organization operates Transitional Programs for young adults. These programs engage children aged 14-21 once or twice a week in an after-school activity. The highlight of this program is a Summer Camp which takes place in August. To fund its activities, each year, Tsad Kadima holds an event that, in addition to benefiting a worthy cause, also affords one a trip down memory lane.
Last year, Shlomit Aharon, former frontwoman for HaKol Over Habibi, took center stage. The year before, rocker Riki Gal graced the hall. Both women have worked with Caspi and Gal has been a frequent collaborator.
In fact, 25 years after one of their biggest hits, Mah Zot Ahava (What Is Love) Matti Caspi and Riki Gal will be bringing back the magic on March 24, when their new concert tour of the same name, premieres at Nokia Stadium in Tel Aviv. More information is available here.
Visit the website to learn more about Tsad Kadima. Tickets to the March 26 benefit may be purchased by phone: 02 654 0062 or by email: ayala@tsadkadima.org.il.
By the way, in his current incarnation, Matti Caspi is also a turtle. Or rather, a stuffed animal series bearing a keen resemblance to him. Inside each turtle is a real music box that plays tinkly versions of beloved Matti Caspi songs.
And here are Caspi and Gronich, then and now.
In our globalized wired world, its very hard to find a truly Israeli Purim costume. Gone are the times when little girls would dream of dressing up like Queen Esther and little boys live like wicked Haman for the day. Needless to say, the era of home-made dress-up has also passed — though many families do invest in having a seamstress whip up a bespoke fairy princess gown or two — and importers like Shoshi Zohar make their fortune each year at Purim time.
Nonetheless, a thorough perusal of the Shoshi Zohar online catalogue did yield some particularly Israeli fare, starting with this little Mossad agent…
I'm sure, despite the red Star of David on her cap, that this naughty nurse wasn't trained by Magen David Adom…
This fellow seems as perplexed as I was at the idea of buying this get-up as a costume, when the real deal is easily available only a 15 minute drive away…
Shoshi Zohar actually has a whole section entitled "Costumes for Religious People" and here we do find some sentimental remnants of yesteryear's costumes. Although the Megillah's characters were curiously absent, I did find two out of the four Matriarchs. Here's Rivka (Rebecca), her gown bedecked with camel appliques…
And Aharon (Aaron), the High Priest!

It was also nice to discover that local drugstore chain Super-Pharm had produced a series of instructional videos for the holiday about how to do face makeup and while Smurfette isn't Israeli, the long-standing affection for the Dardasim, as they're called here, is very much part of our local popular culture.
At age 88, Peres is a new media star and has spent this week, after holding a face to face with President Barack Obama and addressing the AIPAC conference, touring California hi-tech hotbeds as the toast of Silicon Valley, with heavyweights like Mark Zuckerberg and Serge Brin clamoring to pose next to him like he was a rock star.
Zuckerberg helped Peres launch his official Facebook page, which is aimed at creating a dialogue with Arab users. The president repeatedly praised the social networking site as a way for people to bypass failed efforts of governments to seek peace.
And if that's not enough for you to press like, Peres's people recruited celebrated Israeli DJ Noy Alooshe to put together a techno mash-up of a Peres speech to promote the page. Alooshe, a member of the techno group Chovevei Tzion, was propelled to international success after his parody last year of former Libyan despot Muammar Gaddafi, which included excerpts from one of his speeches during the early stages of the Libyan civil war.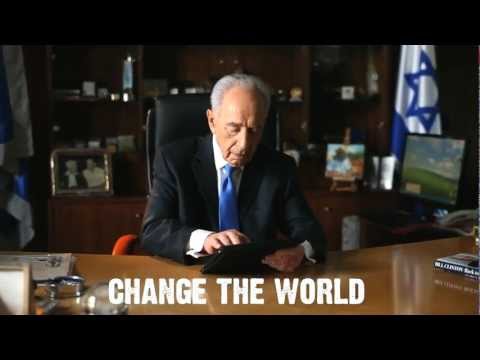 Accompanied by a pulsing techno beat, the Peres clip features Peres rapping his way through a "be my friend, for peace" riff in his endearing Old World English acent. Visually, we see the presidentin various scenes, from scrolling through his page on a Tablet to meeting international leaders and celebrities like Turkish Prime Minister Recep Tayyip Erdogan, comedian Jerry Seinfeld and the Pope.
The clip appears, of course, on Peres's own YouTube channel. The man's a modern marvel. Meanwhile I'm still trying to figure out what Twitter is all about.