Last April a writer from my personal blog Green Prophet asked: Should the Middle East Have More Sluts? Of course we wanted to attract our reader's attention, and we did with thousands of readers, hundreds of "Likes" and dozens of comments. Although I am not a feminist, I do recognize a critical link between women's rights and environmental values. Look at the women from Barefoot College in Jordan: Women are often the first ones to transmit these values to their societies and children, and women without basic rights are not empowered to do anything. I know that linking sluts and the Middle East is a tough pill to swallow in the ultra-conservative Middle East but we wrote this article to grab your attention. To make you think.
Readers and activists were listening. According to DIY Tel Aviv the Israeli cities of Tel Aviv, Haifa and Jerusalem will be organizing their own slut walks, starting next week. Read more
I recently wrote
about the upcoming visit to Israel of American female country rock band Antigone Rising as part of the US State Department's Cultural Envoy program.
Well, the quartet was here and gone, and they were fantastic. Not only that, they had a great time, as they themselves pointed out in blog postings on the site After Ellen.
Let's take a peek at singer/rhythm guitarist Nini Camps' observations after only a few days in Israel for the first time.
Today we played at Eshkol Ha Pais in Beer Sheva for about 250 Bedouin and Jewish students from local high schools.

Throughout our careers we've played tons of shows for high school and college students. Sometimes even in remote towns in the nooks and crannies of the U.S., but it's safe to say that we have never played for kids that have never heard American music — at all.

I look around the town and it is developed as much as many American cities. But here, unlike in the U.S., there is such a diverse mix of cultures that a girl in jeans and uggs is walking next to a girl in full cover. I can't think of anywhere in the U.S. that has such polar cultural diversity within such a tiny radius. We've been told the entire country of Israel is the size on New Jersey.

And then here we come blazing in. Ha, culture shock indeed!

We played for about an hour and it was hard to read some of the faces. Some were visibly interested and clapping, swaying, but some looked away or looked down and you couldn't help but wonder if they were bored, shy or just not comfortable with what was happening onstage. Or all of the above, for that matter.

After the show we sat along the edge of the stage. It took a few brave souls to break the ice but once they did it was like a torrent rushing the stage. They all came up to say hello, teach us how to say hello, tell us their names, take pictures and some just came up to stare at us.

One boy couldn't wait to tell me he loved Eric Clapton! One girl, pretty well covered up and with great English skills came up quickly to say how lucky she felt to have been at the show. Before I realized it she was gone and I was left wanting to tell her it was the other way around — that we were the lucky ones.
And here's bass player and band founder Kristen Henderson's take on the show in Beesheba.
We just played our first show in Beer Sheva for a mixed group of high school students, both Israeli Jews and Arabs. All of the Arab female students were covered from head to toe, a few only had their eyes showing.

One of our hosts from the U.S. Embassy told us that this would be a very culturally diverse group of students. That in most cases, these kids would never be in the same room with one another, but part of the U.S. State Department's initiative was to bring them together from time to time in an effort to create peace and understanding between the cultures.

As the room filled, it was very clear who belonged to which group. The Israeli Jewish kids filtered down to the front rows. The boys stuck with the boys and girls with girls, but they were "Westernized" in the sense that some wore Adidas sweat jackets and carried iPhones. You didn't get the sense they were intentionally divided by gender, but it was obvious they were divided by culture.

The Bedouins (or Israeli Arabs), on the other hand, sat further back – boys in the middle of the room and the girls fully covered from head to toe in the back of the room. At one point Nini came over to show me that two of the girls were cautiously clapping along during our set, unsure if they should be visibly enjoying the show.

After we performed, an Arab girl approached us accompanied by her teacher. She thanked us for sharing our culture with her and told us that our show, seeing four women on stage playing music, "empowered her" (her words; she spoke impeccable English).

A U.S. Embassy worker later told us the girl comes from a village with no running water or electricity. Her mother recently passed away and she is the oldest of six siblings. She is one of the brightest students in her school and hoped to go on to study science and technology, but due to her family's situation she is now responsible for bringing up her siblings. The Embassy worker went on to say that seeing us perform today gave her hope that she can still have more for her life.
Here's a short video montage of the band's visit to Israel.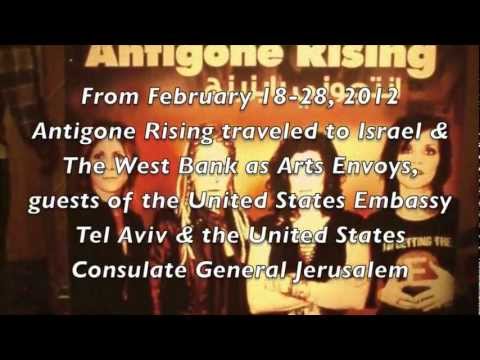 Could it be true that the Adloyada Purim parade is returning to Tel Aviv? According to Ahbar HaIr (City Mouse) weekly, there's a grassroots movement forming among last summer's Social Welfare Protest organizers to bring the legendary celebration back to its birthplace and natural habitat. Finally! A concrete aspect to the nebulous Protest — and one that I can back one hundred percent.
Briefly put, the phrase "Adloyada" comes from "ad lo yada" or "unable to differentiate", referring to the Purim tradition of drinking until one is unable to tell the difference between evil Haman and good Mordechai. The first Adloyada parade was held in 1912 in Tel Aviv and continued until 1936. It was reestablished in the 1950s and shut down again in the 1960s. In the early 80s, the Sheinkin Adloyada came and went — fast and furious like the punk music that inspired it — and that was it. Until now.
(The full background to the Adloyada's historic Tel Aviv roots — and its relationship to debonair choreographer and filmmaker Baruch Agadati — may be found here).
Last week, the organizers of this latest incarnation put in a request to make the renewed Adloyada an official Tel Aviv municipal event but received no response. No matter. "We don't need permission from the establishment to go out and party," city council member Sharon Louzon told Ahbar HaIr.
Well said — and probably the right attitude as it doesn't look like municipality is going to back the revival any time soon. "The Adloyada was cancelled for two principle reasons," ran the official municipal statement quoted by Ahbar HaIr, "budget and logistical complications that shut down the city almost entirely on a day of heavy traffic. In addition, it should be noted that the city of Holon hosts a very successful event, and we think it would not be right to enter into a competition as there is a concurrent event only 10 minutes driving distance away."
Holon! Sacrilege!
The public procession is scheduled to start this coming Thursday at 11:00 AM at the end of Ibn Gabirol Boulevard (corner of HaYarkon Park) and will proceed southwards towards Rothschild Boulevard, Allenby Street, Levinsky Park and the New Central Bus Station, ending at Hatikva Park at around 3:00 PM.
More photos of Adloyadas gone by may be viewed here – plus see below for some rare footage from the Steven Spielberg Jewish Film Archive. You can check out the Holon Adloyada from last year (also below) — it looks very fun, actually, and I think Agadati would have appreciated the Rio carnival dancers.
Purim Sameach! Have a happy Purim holiday!
Adloyada 1932

Adloyada 1960

Holon Adloyada 2011

It's a great idea because you can't get every person to come and visit Israel, but if one popular blogger comes over and gets a good impression of the country, then everyone who follows that blogger is going to be reading about Israel in a different light.
A new player in the game is Kinetis – a young Tel Aviv-based advocacy organization that aims to promote Israel as a vibrant and inspirational source of creativity and innovation. Their pet project focuses on bloggers and is called Vibe Israel.
Previous Vibe Israel trips have focused on 'mommy bloggers' and design bloggers, and this week, their third group has landed, consisting of five popular music bloggers.
• Rebecca Schiller of the New Musical Express from London,
• New York's Samantha Edussuriya of MTV Iggy
• Luke Britton of This Fake/DIY from the UK
• Rory Hamilton of Feel My Bicep from Scotland
• and Brandon Bogajewicz of The Burning Ear, blogging from California.
Collectively, they boast over nine million readers.
Their week-long visit, which encompasses the Mardi Gras-like atmosphere of Purim, includes meeting a slew of top Israeli musical talent including Koby Farhi, the frontman for Orphaned Land, Idan Raichel, Geva Alon and Ivri Lider. The group will also attend a Purim show by Mashina and Infected Mushroom in Tel Aviv.
There's no way they're going to come away with a bad impression of them, or of Israeli music in general, and maybe, with their clout, it could start a groundswell that will push the names of some of them into the international spotlight. And if not, the bloggers' posts from their week in Israel will surely open the eyes of their readers to the astounding variety of world class music we have here.
It's zero degrees Celsius here in Jerusalem right now. Commonly known as the temperature at which water freezes, the weather is also a perfect backdrop to the Jerusalem Ice Festival which opens this coming Sunday.
A team of 20 Chinese ice sculptors came to Israel to create the exhibit which is divided into four sections, starting with Jerusalem of Ice where visitors walk through the ice version of Jaffa Gate…
Visit famous Jerusalem sites, like the Tower of David…
Sir Moses Montefiore's windmill…
…and Montefiore's carriage (that's Mayor Nir Barkat inside)…
Or slide down the pride of Kiryat HaYovel, the "Golem" by Niki de Saint Phalle, now recast in crystallized H20!
After the Jerusalem section there are Animals and Childhood Stories, the Fantasy area, the Ice Bar, which features ice-works by local artists and an ice skating rink.
Here's a quick look at how it all got done…
The Ice Festival takes place from March 6th- April 30th 2012 at the old Jerusalem Train compound. The festival will showcase dozens of ice sculptures, skating rinks and a variety of family-oriented activities. Admission fee is 65 NIS and yes, visitors will receive coats on entering the complex, which will operate at a temperature of -10 degrees Celsius. For more information: Jerusalem Ice Festival.