I am dubiously nostalgic, at best, for the First Gulf War. Nonetheless, it's 20th anniversary time and so the event must be noted. It was not a particularly good time in my life. Unlike many of my peers, whose romantic lives were fueled by the "live for the moment" thrill engendered in the weeks leading up to the war and the war itself, I was dealing with 1. a broken heart, 2. a change in careers, and 3. remodeling my apartment.
They say that war is hell but I say renovations are. Two weeks before the January 15th deadline set by the US, my pal Motti-the-shiputznik (shiputzim is the local term for renovations) convinced me that now was the perfect time to put in that new toilet, sink and bathtub. "But there's going to be a war," I protested weakly. "There's not going to be a war," he countered. "And even if there is a war, it'll be over in what? Four or five days, maximum!" Motti then went on to convince me that if I was already doing the bathroom, I should do the kitchen too. And probably the living room.
Needless to say, two days before the deadline, all of Motti's Arab workers were blocked from entering Israel and the project stalled. And so, dear reader, I spent the Gulf War living as if a SCUD missile had hit my now floorless, wall-less, toilet-less apartment.
In those days I was in another profession, that of theater lighting design. And in a no less surreal situation, due to the bottom falling out of the theater market (the war came early there), I had taken on whatever work I could get: a dinner theater version of the Rocky Horror Picture Show, complete with an Eddie corpse sculpted from margarine out of which guests were supposed to dish their dinner. Just what the world needed at that moment. The project was marred not only by a lack of taste but also directorial sanity and — truth be told — electrical safety.
The venue was an old Turkish nightclub in Jaffa whose roof was made of plywood which meant we couldn't hang lamps. In any case, the electrical infrastructure was so ancient, it couldn't power more than a few, yet the director continued to make outrageous demands. The January 15th deadline was closing in. What was I doing there?
"Don't tell anyone," the head electrician whispered in my ear, "but I've bought tickets for England and my wife and I are flying out tomorrow. I am not going to be here when this war starts."
"I think I have to go home and seal a room," I told the director when she made another one of many unfeasible requests that would require me to stay extra hours. "You know, because the war." "Oh yeah…" she said dreamily. "My mother said she would do that for me." Well. You don't say that to a motherless child. I didn't say anything but it was at that moment I decided to get the hell out of that production, away from theater people and theater in general.
Fortunately, sometime around January 13th or 14th, someone on the production team put the project on hold and everyone went out to dance at the "End of the World" parties that were happening all over Tel Aviv. I went back to my temporary digs at a friend's apartment and started the long-overdue task of sealing up the room, as we had been instructed, with cross-hatched tape on all the windows so that they wouldn't cut us when they shattered, plastic sheeting over all the windows and doors and a bucket half-filled with water and a wet rag for the door frame — all to prevent the poison gas that was surely heading our way from seeping in.
And of course, into the sealed room went the gas masks, symbol of a new kind of war we were about to experience: the low-profile war. Meaning, Israel was going to sit back and not take action.
According to the Home Front Command's history, "Israel maintained a low profile from the day Iraq invaded Kuwait, and did not participate in the political contacts between Iraq and the U.S.A. Despite this 'low profile' policy, the IDF, through HAGA (the Civil Defense), took a number of steps… regarding the home front:
"1. Handing out personal protection kits to all residents in Israel for protection against unconventional weapons.
2. Wide-ranging use of the media to disseminate information and directions on how to use he masks and how to behave during an alert.
3. Publicizing directions for preparing a sealed and secure room in every home and in public places, and instructions to avoid large gatherings.
4. Cooperation between medical and rescue organizations in the rear."
So, we had sealed rooms and our gas masks in handy-dandy carrying cases. But we weren't allowed to open the boxes yet. And when we were given the go-ahead, here is what we found:
1. A gas mask
2. A canister filter, to be affixed onto the end of the mask
3. A packet of talcum powder (in case of mustard gas)
4. A packet of gauze (for the above)
5. A syringe for the self-injection of Atropine
That last one was the most intriguing to a lot of people. What was Atropine? What were the effects? Could it get you high?

Friend or foe? The Atropine syringe
Finally, the first SCUDs fell. Needless to say, at first, many people were so convinced that they had been gassed, they injected themselves with Atropine and had to be hospitalized. In our neighborhood however, a strange thing happened on the first morning after the second round of shelling. The old HAGA guys came around with a megaphone and told everyone to get out of the sealed room and into the local bomb shelter.
The local bomb shelter? Where the hell was that? I'd been so busy dealing with plaster, plastic and tape, I'd never considered the conventional warfare option.
Neither had anyone else, it seemed, as the neighbors — mostly young hipsters in sweats, and elderly folks, (also in sweatsuits or PJs but with the addition of bathrobes) — began trailing out of their buildings, down the street and over to the local elementary school. We — me, my friend, her boyfriend and his dog — sat down along with everybody else on the floor in the musty bomb shelter with our hastily thrown-together knapsack of granola, sweatshirts, flashlight — and of course gas masks.
Basya Schechter has long been one of my favorite Jewish musicians. Whether with her seven piece band, Pharaoh's Daughter, or stripped down (metaphorically, please) in an acoustic show, Schechter offers an intriguing mashup of ethnically tinged Shabbat zemirot, Ladino love songs, and wistful Yiddish poetry. Her playlist ranges from neo-Klezmer to Egyptian-tinged Middle Eastern rhythms.
Schechter performed last week at a house concert in Baka. It was an intimate setting – some 50 people in the living room of Bob Trachtenberg and Ruth Mason – with just Schehcter and her guitar virtuoso partner Eyal Maoz on stage.
Given the small space, before the concert, Schechter and I started casually chatting. "I love your music," I said. "But what's up with the name 'Basya?' Why not Batya with a 't?'" I asked referring to the modern Hebrew pronunciation that's standard in Israel.
"You have no idea how many times I've been asked that," Schechter sighed. I could see I'd hit a sore spot. "But my name is Basya. It's always been Basya!"
If you know a little about Schechter's background, the name makes more sense. The "s" sound used for the Hebrew letter "tav" indicates that the speaker comes from an Ashkenazi, often ultra-Orthodox Hassidic background. And, indeed, that's how Schechter grew up: in a large Yiddish-speaking family from Brooklyn where she was only exposed to boys and popular music in her late teens.
Shechter is now the black sheep, so to speak, of her extended clan. Dressed for the concert in a short mini-shirt/skirt and tight black leggings, she left the Orthodox fold many years ago to pursue a secular music career, one that doesn't fit so neatly into the traditional role of a shomer mitzvot Jewish matriarch. She plays in the Friday night band at Bnei Jeshurun, a Conservative synagogue in New York; has seven CDs out, some solo, others with Pharaoh's Daughter; and learned to strum the oud and saz while hitchhiking through Africa and Turkey.
NewYorkCool.com referred to her band this way: "Have you ever wondered what would happen if Pink Floyd and PJ Harvey crossed paths in a cafe in Israel and subsequently took a road trip to South Africa? What if they met up with Radiohead in Morocco along the way?"
One of her haredi brothers (Schechter has seven siblings in Israel) only recently mustered up the courage to listen to some of her CDs and was shocked. As Schechter told the audience, "Wow, Basya, he said. Your music is more Jewish than the stuff I listen to!"
Hence, sticking with "Basya," the way it's always been pronounced, symbolizes Schechter's achievement in blending the music of her roots with the contemporary arrangements and melodies she writes. She never abandoned tradition entirely; many (perhaps including her brother, now) would even say she's enhanced it, making it accessible to an entirely different population that's open to the past without feeling obliged to adopt any more than a musical lifestyle.
"So what's your Hebrew name?" Schechter playfully asked me.
"Ariel," I replied cautiously.
"That's a great name," she said. "You should use it. Maybe you'll get even more readers!"
"But my name is Brian. It's always been Brian. That's how people have known me since I was born."
"Same with Basya," she smiled back.
It looks like Israel finally has its own Rocky Horror Picture Show.
Evidently the young and hip have been descending on the Tel Aviv Cinemateque on Friday nights for midnight screenings of the burgeoning cult film An American Hippie in Israel.
Ben Hartman of The Jerusalem Post called the unknown 1972 film "surely one of the worst films ever made in Israel, or beyond" with "terrible dialogue, worse camera work and editing, heaps of gratuitous nudity and violence," and best of all, an all-Israeli cast awkward mangling of the all- English completely nonsensical script. In short, it bears all the hallmarks of a classic cult movie – Hartman calls it "undeniably hilarious and enjoyable to watch."
The movie centers around New York native Mike, the hippie (played by Asher Tzarfati), who, fresh from the killing fields of Vietnam, lands in Israel one sunny morning clad in a white rabbit fur vest, bellbottoms and a bowler hat. He links up with some Israeli flower children and they skipacross the city, eventually making their way to Eilat to build a utopia far away from the rat race. The love fest predictably soon turns into a bloodbath, and floating plastic sharks prevent the crew's escape from the coral island south of Eilat.
The monthly midnight showings were engineered by Yaniv Eidelstein, a 32-year-old Tel Aviv resident and video store worker who hunted down the film after finding a trailer for it online in 2007. He located one of the actors, now age 77, and invited him to come to his home with a copy of the film and screen it for some friends.
"After that first showing at my house, people kept asking me about it, wanting to know when I'd show it again, some of them people I'd never met even," Eidelstein told The Post. "A few months ago, Time Out Tel Aviv ran an article about the movie, and afterwards we went to the Cinematheque and convinced them to hold a midnight showing."
Since then, the crowds have been increasing, and attendees have memorized the dialogue ala Rocky Horror. Eighteen-year-old Matan Portnoi said that one he saw the trailer online, he realized he had to see the entire movie.
He keeps coming back for "the dialogue, the bad acting, the plot – all of it, really." Just like any good bad cult film should deliver. See for yourself.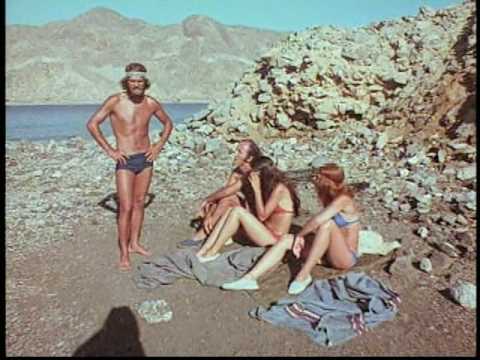 Those who consider Israel to be a Mickey Mouse operation might get some more ammunition in the near future.
As reported on ISRAEL21c, the Walt Disney Company investment arm Shamrock Holdings and the Israeli New Lineo cinema chain have announced plans to build a $168 million amusement park and a multiplex movie center in the port city of Haifa near the Check Post exit of the city's Carmel Tunnel.
The entertainment complex, slated to open in 2013, will include a 30,000 square meter amusement park and a 50,000 square meter compound with shops, 25 movie houses, and four theater auditoriums.
New Lineo already operates the Cinema City multiplex sites in Ramat HaSharon, north of Tel Aviv and with 25 screens, and Rishon LeZion, south of Tel Aviv and with 26 screens. The new complex will be near the already existing Cinemall, which has stores and a 23-screen Yes Planet multiplex.
Haifa Mayor Yona Yahav said that Donald, Goofy and the rest of the motley Disney crew would be more than welcome in Haifa. "This plan expresses confidence in our plans to turn Haifa Bay in a thriving business area."
The area, which was a target of Hizbullah in the Second Lebanon War in 2006, and which is close to the devastating forest fires which decimated the Carmel Forest last month, sure deserves some good cheer. Many people think of Haifa as the country's most attractive city, with its amazing vista overlooking the Mediterranean, the Baha'i Temple and grounds, the Technion and many other attractions.
Sure, Israelis have been able to hop over to Euro Disney for no small expense, but it looks like soon we'll have our own Med Disney. How do you says 'sufferin' succotash' on Hebrew?
Ben Draiman's
show last week at the
Off the Wall Comedy Club
in downtown Jerusalem might not have given a second glance to the black-clad bald man watching intently.
If they had, and they were under 30, they would have recognized Ben's brother David, who just happens to be the vocalist for one of the most popular hard rock bands in the US – Disturbed.
The elder, more famous Draiman frequently visits Israel to see his brother, grandmother and huge clan of relatives, the continuation of a life-long love affair with the country.
"I love it here, " Draiman told me last week in Jerusalem, before he prepared to shoot down to Eilat for some scuba diving with his girlfriend, TV host and former pro wrestler Lena Yada, who was making her first visit to the country.
"I told her to take the most confident Greek and Italian men and put them together, and you'd have an Israeli guy," he said.
The exotic-looking Yada would undoubtedly have no problem fending off aggressive would-be-suitors. And based on the glances from pedestrians and missed green lights by motorists that occurred when she crossed the street outside her hotel to run into a boutique at the Mamilla Mall, there would be lots of suitors.
Draiman, who spent a year studying in a yeshiva in Jerusalem after high school, remains an ardent Zionist and said he's constantly defending Israel and his Jewish faith, with his words, and if need be, with his fists. He described encounters with anti-Semites and skinheads, some of which ended up in discussion and some in non-verbal interaction.
Growing up in an observant environment at five different Jewish day schools/yeshivot, Draiman excelled in hazzanut and studies, but rebelled at the religious conformity and was eventually asked to leave each institution.
While no longer observant, he was confident that with a little brushing up, he could lead the High Holiday services from beginning to end with no problem. So if any shuls are looking for a second rabbi/cantor next year, here's your man.