The Voice has conquered Israel. The singing competition/reality show which captivated the US last year debuted here last week and broke TV ratings records.
The first episode – aired by Reshet on Channel 2 on Saturday night – scored 43.4 percent rating of 1.6 million viewers. Remember, we only have eight million people in the whole country.
Just like the US version features celebrity judges/coaches Christina Aguilera, Cee Lo Green, Adam Levine, and Blake Shelton, the Israeli edition has its own star lineup – Sarit Hadad, Rami Kleinstein, Aviv Geffen and Shlomi Shabat. It's been hyped to the hilt on TV promos, and newspaper features, so the anticipation for the first episode was high.
The premise of the show is centered on a blind audition process. The judges, with their seats turned away from the seven performers, have the length of each audition to decide whether to turn their seat around and pursue the singer for his or her team (and a season's worth of coaching, performances and competitions) only by virtue of listening.
Among the seven competitors was one who raised the eyebrows of native English speakers – 23-year-old Kathleen Reiter, a new immigrant from Quebec. She belted out a version of Adele's "Rolling in the Deep" that had the judges swiveling around and facing her in seconds.
"How many years have you been here?" asked Kleinstein.
"I just got here a few days ago," Reiter answered in fluent Hebrew, to the astonishment of the judges.
"Your voice is huge," said Hadad, trying to recruit her with a common bond of "girl power."
Geffen told her that he had a warm place in his heart for Montreal, where he frequently performed, and Kleinstein summed it up, saying "One thing is clear – we all want you."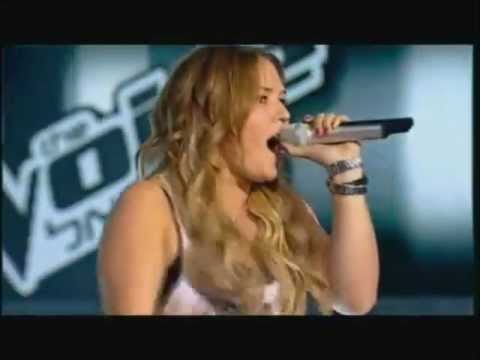 Reiter eventually chose Hadad, and this weekend's show will indicate whether she made a good choice. In the meantime, she's happy to be in her new country, albeit equipped with decent Hebrew thanks to her upbringing with her Israeli parents who moved to the Montreal area from Kiryat Haim before she was born.
"I don't know what the future holds, but I know that this is an amazing opportunity for me and a great start to what will hopefully be a great life here in Israel," she told me during the week after her debut.
It's not a bad start, indeed. How many other North Americans get off the boat and become national TV fixtures in their first few days in the country?
It would be remiss of me if I did not mention the death of singer Yaffa Yarkoni at the age of 86 last week.
The papers, both local and international, reported on her passing — she was indeed the symbol of the War of Independence generation and a singer of some of Israel's most beloved songs.
But she was also loved for being a fixture on the Israel Song Festival and Children's Song Festival circuits, in the 1960s and 1970s, respectively.
For many years, she was an unofficial cultural ambassador for Israel, who charmed visiting international celebrities like Sean Connery, Cliff Richard and Sammy Davis Junior.
Like many women performers with a strong personality and powerful stage presence she, like fellow diva Shoshana Damari, inspired a generation of local drag queens.
Most of all, Yarkoni was a dyed-in-the-wool performer who was born to be onstage. In later years, she came out strongly as a member of Israel's peace camp. In this interview, she covers topics ranging from cataloging her gowns, (so that she would never wear the same dress twice to a given venue), to face lifts (she didn't have one and shows the back of her ears to prove it). She also describes the time she went down to Sinai to perform for the troops and ended up giving an impromptu performance to an onlooker who happened to be an Egyptian soldier on the other side of the line. "On the way back, I said to myself, ya allah, maybe we can end this war simply with song?"
The Internet offers us endless ways to view the sites and sounds of the Holy Land. This week, we present some of the many panoramic photo and video images that are available online.
Panoramic photography, states Wikipedia, "is a technique of photography, using specialized equipment or software, that captures images with elongated fields of view. It is sometimes known as wide format photography." (Click here for more about the methods used to create 360 images). Panoramic photo images have been around since the mid 1800s; this one of Jerusalem was taken in the early 20th century.
Photo courtesy of Wikimedia Commons.
As with everything else photographic, clearly, the technology has evolved. Take, for example, this amazing 360 degree panoramic photo of the Galilee.

Tel Yodfat, Galilee, Israel in Israel
The Church of All Nations is located on Mount of Olives in Jerusalem, next to the Garden of Gethsemane. Click on this photo — the link will take you to a panoramic view of the Church, the Garden and the walls of the Old City, courtesy of 3D Israel.

Israeli company Simply Live has developed a highly technologically advanced 360 degree video camera (only last week presented at the Bezeq Expo innovation showcase). Click on this photo of the Church of the Holy Sepulchre — the link takes you to their site where you can view an interactive video that allows you to enter and move through the Church interior.
A fascinating if politically charged panoramic view of Israel's coastline as viewed from the West Bank is available at MyIsrael.com. The site owners are very blunt about the purpose of the wide-angle shot: they wish to show how vulnerable Israel would be to an attack were pre-1967 borders to be reinstated. It takes only one look to see why the situation here is complicated.
Even on its own, the image is complex: a very wide-angle view (MyIsrael.com say it is the largest publicly available) with interactive controls so that viewers can zoom in on highly detailed close ups. Photographer Yaal Herman provides several pages of explanation on how the photo (really hundreds of photos stitched together) was accomplished. Click on this thumbnail to see the full version.
Whatever the political future holds, we can still hope for stability, quiet and — dare I say it? — peace. A few weeks ago, I was in Bethlehem once again for the annual Papal Peace Run. Instead of a highly secured, quick in-and-out, I would like to be able to return one day at my leisure to visit the Church of the Nativity. Till then, I will visit this way — and invite you to do so, too. Happy holidays to all.

Church Nativity Bethlehem in Israel

Grotto of the Nativity – Church of the Nativity, Betlehem in Israel
Midnight Biking Through Jerusalem
recently hosted Rajskub, as well as Greg Grunberg (Felicity), Austin Nichols (One Tree Hill), Shuan Sipos (Melrose Place) and Justin Chatwin (Shameless). They're all
here
with
America's Voices in Israel,
and while they're covering a fairly standard itinerary, they've hit some great spots, including
Bayit Bagalil
, rugelach in the shuk, and good eats all over the place. And they've all been tweeting, although
Rajskub's
are the most interesting, including her comments on "epic falafel" in Sderot, washing her sins away in Tzfat, a great Shabbat dinner and, unfortunately incorrectly, drinking coffee at "Starbucks in Jerusalem." But, of course, there is
no Starbucks in Israel
, as it couldn't make it here. Nevertheless, wishing them a great rest of trip and more sightings for the rest of us.
Sometimes the best 'hasbara' about Israel can be totally spontaneous and come from the most unexpected sources.
Actress Claire Danes appeared on the Conan O'Brien show this week to plug the pilot for her psychological thriller Showtime series, "Homeland", which is based on the Israeli series Hatufim.
When Conan said that he had heard that some of the film was shot in Israel, Danes went off on a monologue about how great Tel Aviv is, and described it as 'the most intense party town' she had ever been in.
A YouTube clip – free. Dane's comments – priceless.