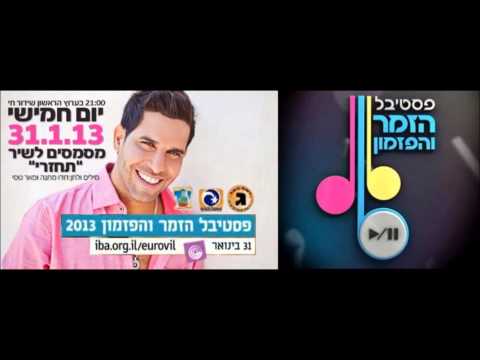 After a more than 30-year hiatus, the Israel Song Festival was revived last week. The once revered national competition was held annually from 1960 to 1980, with the first winner being "Erev Ba" ("Evening is Coming" ), performed by Aliza Kashi and Shimon Bar.
In subsequent festivals, ome of the country's biggest stars – like Arik Einstein, Zohar Argov, Boaz Sharabi and Yizhar Cohen – got big career boosts from the patriotic competition.
But beginning in the 1978, when the festival winner automatically was chosen to represent Israel in the Eurovision pop song contest, the standards shifted to a more friviolous style and quickly became obsolete and was shelved.
According to the Israel Broadcasting Authority's Amir Gilat, the goal of reviving the Israel Song Festival was to give a proper platform artists performing in a local style, unlike the Eurovision entries which cater to a more pop European taste.
This year's winner among the 12 competitors who performed Thursday night at Mann Auditorium in Kiryat Motzkin was Mediterranean singer Pe'er Tessie from Pardes Hanna, who performed the song "Come Back."
Many commentators noted that the quality of the competition paled in comparison to the heyday of the festival. To remind us of those days, contemporary mashup artist Kutiman compiled this clip of some of the bygone highlights of different era of Israeli entertainment.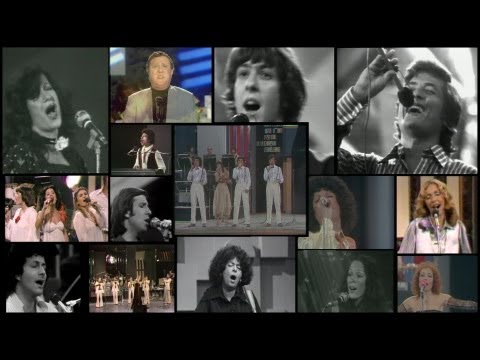 of Israel
, everyone from The Churchills in the '70s and Dana International in the '90s to latter day acts like Izabo, Kutiman, Balkan Beat Box, Orphaned Land, Boom Pam and Infected Mushroom have made inroads outside of Israel's borders, but haven't quite made the leap to household name in Topeka quite yet
Add Asaf Avidan to the list, the 32-year-old iconic rocker with a voice like the bastard child of Janis Joplin and Robert Plant. Three years ago, he and his band The Mojos were signed to Sony on the basis of their electrifying debut album The Reckoning. When I played it for a New York Times music writer I had met when it was released, his mouth fell open.
Three years later, Avidan and the Mojos have gone their separate ways, and the singer/songwriter has gone back to stage one, forming a new band and releasing an album – Different Pulses – on the local High Fidelity label that shows him embracing electronic keyboards and beats, courtesy of Balkan Beat Box's Tamir Muskat.
At a 'tuneup' show of the new band and album on Saturday night before a packed and adoring crowd at Zappa Jerusalem, (before the official debut on September 27 at Theater Club in Tel Aviv and September 28 at the Shuni Amphitheater in Binyamina) Avidan proved that despite the complexion of the music and instrumentation of his band, he's still an engaging, powerful performer who deserves a wide, international audience.
Handling electric guitar chores himself, Avidan was backed by cellist/keyboardist Karnii Postal, keyboardist Tom Darom, vocalist/percussionist Michal Bashiri, and drummer Hagai Frishtman. The three women regularly provided subtle and haunting vocal counterpoint to Avidan's trademark high-pitched wails in English as he introduced hypnotic songs from the new album like "Setting Scalpels Free" and the rhythmic single "Love it or Leave It."
The new material, despite its groove orientation and electronic backing, came alive onstage with the band displaying a rocking groove despite the lack of a bass guitar. Darom's buzzing keyboards fill any gaps, providing a broad landscape for Avidan's inventive guitar lines. When the band turned to older, well-known material from Avidan's The Reckoning, the crowd took over singing most of the lyrics to the delight of the front man.
And only in Israel does a rock star leave the stage after a two-song encore with a "Shana Tova, may you all get sweet things this year." Avidan's mojo is still definitely intact, and if there's any musical justice out there, the rest of the world will know about it.
Here's the official clip to the album's title song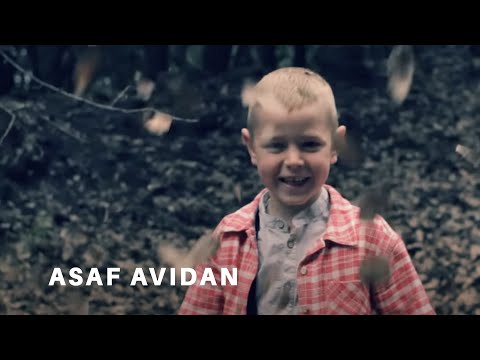 When you think of Israel's musical diversity and who the most fitting artist may be to exemplify it, Idan Raichel will likely come mind – with his multi-cultural band and his inspiring pastiche of Middle Eastern, new age, gospel and contemporary pop.
But a worthy contender is the Israeli 'Earth mother' – MC Karolina.
With her flowing rainbow clothes, distinctive hair, swaying motions, and evoceasily flow from Hebrew to English to Hebrew, she lays down a good-time groove and never lets go of it.
Audiences may already be familiar with Karolina without even knowing it – because she's also the anchor of the acoustic jazz-folk vocal trio Habanot Nechama. The group, featuring singers Yael Deckelbaum and Dana Adini, recently returned from a triumphant tour of US and Canadian colleges and clubs, wowing the crowds with their bi-lingual vocal versatility.
Now Karolina – whose last name is Avratz and who was raised in Eilat – is back in Israel, enjoying solo success with her new album What Do I Do Now?, featuring the hit single "Happiness."
Karolina's musical diversity dates back to well before she founded her first band, Funset, in 2000 and began making inroads in Tel Aviv's underground club and lounge scene.
Falling in with like-minded musicians in Tel Aviv, Karolina founded the Funset Sound System and created something she called a "Ragga Pumpkin" sound – a lively blend of reggae, soul and trip hop – which also featured in the name of the band's 2005 debut album, Live Ragga Pumpkin.
The album resulted in an ACUM award (similar to an Israeli Grammy) for Karolina – for composition – with the prize citing her "original style, fresh and lively, and her diverse ability to write and to excite with a unique sound." Another ACUM award – for Best New Song of 2007 – went her way for "So Far," a track from the Habanot album of that year.
"I was a solo artist for many years before Habanot, so I have a strong identity coming in, as we all did," she told me last week.
For her solo album, Karolina worked with collaborators Kutiman, who gained worldwide notoriety last year for his inventive YouTube musical mashup "Thru-You," and Ronen Sabbo, one of the hottest DJs in Tel Aviv and one-fourth of the DJ crew Soulico.
For an authentic taste of contemporary music, Karolina will get you there… Here's one of her songs, followed by the Habanot Nechama classic "So Far."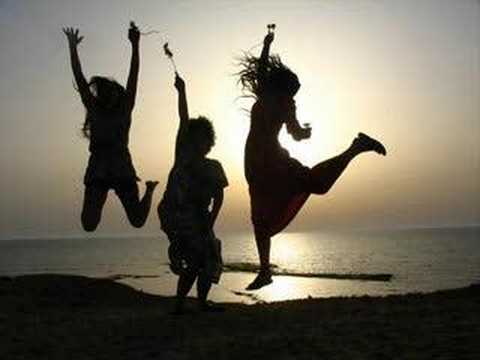 What a year. We started with the war in Gaza, and ended with a rash of terror attacks in the West Bank. And in between there was the water shortage, the Goldstone report, posturing and threats between Israel and Iran, and endless and bitter bargaining over the release of Gilad Shalit.
It was also, however, a year in which the Israeli economy weathered the global financial storm in extremely good shape, when new Israeli innovations in health and technology made good on the world markets, when Israeli charities gave life-saving aid to developing nations, and when Israel's financial and technological success was finally recognized worldwide.
So what did our viewers enjoy reading the most in 2009? Well, the choice was as diverse as the year, ranging from the serious – the humanitarian aid webcam at the crossing into Gaza during the war, to the sublime – a YouTube mash created by an Israeli musician, and of course the ridiculous – the Bollywood style advert created by missile maker Rafael for the Indian market.
And, let's face it, you all love to read about sex, scandals and supermodels as well.
Check out Israelity's top 10 stories of 2009 below.
1. Foto Friday – Sexy Tel Aviv
In July, Rachel wrote a piece about gay clubbing in Tel Aviv during the hot summer months. The city has a lively gay scene and it abounds with great dance clubs and bars. Combine that with the great weather, and you've got a wild night out. Check out David Shankbone's pictures in this post to see for yourself.
2. Israeli model Esti Ginzberg shot in New York
Fed up with all the hype about Israeli supermodel Bar Refaeli (yes, yes, the one who dated Leonardo DiCaprio), in March Harry decided it was time to write about a different supermodel – an upcoming one.
Esti Ginzberg, is a Tel Aviv teenager who featured in 2009′s Sports Illustrated Swimsuit Edition, and carried out modeling campaigns for international chains like Tommy Hilfiger and Pull and Bear. She's been featured on the cover of the French version of Elle Magazine, and this year also became a Victoria's Secret model.
Not long ago, Ginzberg joined the IDF for two years of army service. Check out our video interview with Ginzberg in uniform on YouTube.
3. Human body parts invade Haifa

It's created controversy wherever it went on show. Israel proved to be no different. As David pointed out in March, the exhibition, Body Worlds, by German anatomist Gunther von Hagens, raised hackles with Israel's religious community the moment it went on show in Haifa.
The exhibition, of human anatomical specimens which use plastic to replace the fat and water in human body parts, has been seen by over 26 million people around the world. In Israel, the Haredi population protested the opening, and rumors abounded that Michael Jackson had asked von Hagens if he too could be plastinated when he died – an event that most likely came much sooner than he expected.
4. Humanitarian aid webcam Gaza
In January, right in the midst of the Gaza conflict, the IDF decided to start operating a live feed of the Keren Shalom border crossing – the largest checkpoint between Israel and Gaza – showing humanitarian aid being transferred to the Palestinians.
Karin, who interviewed Peter Lerner, an IDF spokesperson working at the border crossing, wrote a blog post on the news with a link to the webcam, which operated for three hours every day, during the daily ceasefire.
5. Bar Refaeli proof that Israel is a land of wonder
She's inescapable. Bar Refaeli made the headlines again and again and again this year. Either for upsetting the Haredi with her revealing ad campaigns , for appearing on the side of an airliner, or – in May –, for being voted the third "hottest" woman in the world by men's mag Maxim.
Under her picture, the editors wrote: "If there's any evidence that the Middle East is a land of beauty and wonder – not just unending turbulence – Bar is it." Amazing what a pretty face can do. Not sure Refaeli is the right ambassador, however.
Read more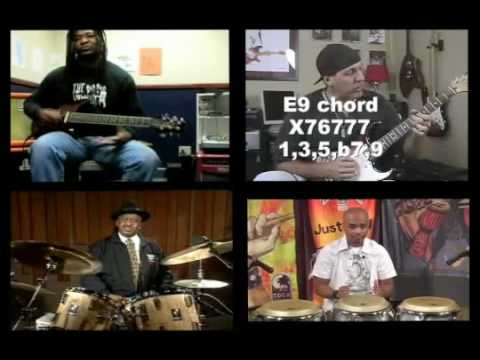 We wrote about him back in March and now the rest of the world is catching on. One of the top 50 inventions of 2009, according to TIME magazine is the music video montage Web site created by Israeli musicians Ophir Kutiel, who goes by the name Kutiman.
Kutiel's site, thru-you.com, has atttracted more than seven million viewers with its striking remixes of video clips by amateur musicians from YouTube. TIME called the work "video jams of amazing funkiness, in the process creating an all-new art form."
Kutiman takes YouTube footage of people giving gear demos and lessons on how to play certain riffs and combines them into incredibily cohesive and soulful songs. Hailed as the "psychedelic funk architect" Kutiman brings UGC (Users Generated Content) to the next level.
According to his record company NMC, Kutiman sat in his bedroom studio and watched and sorted thousands of music videos uploaded to YouTube by mostly anonymous users. Kutiman chose around a 100 of these videos – made by users from all around the world, featuring both musical instruments, vocals, toys and other surprising artifacts, and fused them together into Thru You. Using only materials found on YouTube, not playing a single note himself, Kutiman's Thru You is a 21st century version of Found Art.
On an inventions list consisting of primarily gadgets and technology, Kutiman's Thru You is certainly striking an appealing chord.