When the IDF gets a task, they tend to do it well.
Among the tasks that soldiers stationed along the southern border with Egypt perform is catching drug smugglers crossing the border. These are usually Bedouins bringing in hashish or cannabis to the country to supply the increasing number of Israelis who partake.
According to Israel's Anti-Drug Authority, an estimated 110 tons of marijuana and hashish make it into Israel every year, most of it courtesy of Egypt, Lebanon and Jordan. However, The establishment of three special police units at Israel's southern and northern borders as well as its international airport have brought a 30% increase in the number of big drug busts.
A recent report in Ma'ariv, claims that the authorities have been doing such a good job as preventing the trafficking, that the prices for pot on the street – if it's available at all – have gone through the roof. And most heads have reverted to spending three or four times the street price to procure lab-grown marijunana, usually used for medical patients.
I decided to do some tough research myself to find out if, indeed, it is difficult to obtain some cannabis-related material. Through intensive networking, I managed to find some people who were known to be able to procure such contraband. And they confirmed that, for the first time in years, they were plumb dry.
It all made sense. I had been noticing for a few weeks now that people seemed to be more tense and irritable. I thought it was the warm weather. But now I know why.
"Oh, great," I thought, this is what she's going to be doing now, as the asimon fell and reached my brain for the first time, filling it with a mixture of pride and trepidation.
Later, during the short, moving ceremony at the Nahal Memorial near Pardes Hanna, the commander of the brigade referred to the incident when describing the responsibilities the graduates were about to take on.
When he said that a unit on patrol had killed an armed terrorist attempting to infiltrate, the gathering of parents of family applauded.
At first it seemed somewhat awkward and inappropriate to me, to be clapping for someone else's demise – even if they were setting out to likely commit murder themselves.
But, as I reflected on it, I realized that it hadn't been a bloodthirsty venomous ovation, but sort of a muted, reluctant show of recognition that this kind of job has to be done and our children are the ones who have chosen to do it.
The cheers from the crowd when the ceremony ended and the one-time recruits threw their brand new green berets in the air were much more lusty and heartfelt. As long as that order of moral clarity exists – where achievement and initiative takes precedent over killing, gloating and destruction, our society, for all its faults, isn't doing too badly.
In the paper the next day, we read that that 'terrorists' shot at the border had actually been armed Beduin drug smugglers. It only contributed to the notion that my daughter's job for the next couple years is not going to be an easy one – not for her physical stamina nor for her moral compass.
Do I have a warped sense of reality from living in Israel? I was starting to wonder.
Earlier this week, I sent out to friends and family in the US a link to a short video news story my friend Arieh produced for the Media Line news agency on Karkal, the mixed men-women combat unit that my daughter is currently training for.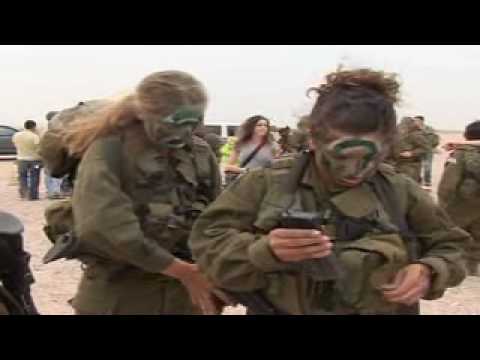 Arieh traveled down to the border with Egypt where Karkal units patrol on foot in camoflauge, guarding against terror attack and infiltration. And he spoke to the soldiers doing the job, where they explained the dangers involved, as well as what it was like in a mixed unit.
In addition to being proud of her, I thought everyone would appreciate learning about the life she was going to be leading for the next two and a half years, once she finishes her training.
But a couple comments I received made me start thinking about the whole issue of raising children and sending them off to be in harm's way. Maybe it's not something to be proud of, and we've just been conditioned by the military nature of our surroundings that it's a good thing we send our kids off to do.
But leave it to my wife to bring me back to this side of the Earth. We didn't ask for enemies, and if nobody volunteered to do these dirty, dangerous jobs, then most likely, Israel would not be around. I think it's probably difficult for an American or any Westerner to understand the daily threat facing us, and comprehend the importance of our sons and daughters having to be the front lines against that threat.
So, yes, I hate the idea of raising children to become soldiers and placing them in life-threatening situations. And yes, I'm totally filled with pride that my daughter chose her path in Karkal, and that she's spending her army service defending her – and my – country.
You have to love the different sides of the people you know. I was getting my hair cut by my hairdresser, Dave Silverman, a fellow Anglo with a deep Boston accent. Dave, as many know, gets to work and other destinations on his Harley Davidson motorcycle, strolling into his salon, Dave's, on Derech Beit Lechem with his black fringed leather jacket and chaps, and then cuts and trims hair with easy skill.
As we're discussing our various Pesach expeditions, he tells me that he made it out for one day of the annual Harley Davidson Israel tiyul, which took them down south to the Ramon Craters and beyond. The beyond included a little-known road that took them to the border with Egypt, alongside the IDF army bases and the Egyptian army base on the other side of the fence. This is an area that is under much surveillance, as it is where Egyptian and Bedouin smugglers try to pass drugs, arms and sex workers from one side to the other. As a result, Dave told me, in order to use the road, you have to get permission from the IDF, and have a gun, in order to protect yourself if necessary. Not surprisingly, most of the bikers have guns, and their 'leader', helpfully, is a former army bigshot.
So while they were taking a break from the hot sun, and drinking some H2O, they were waving at the Egyptian soldiers in a friendly exchange. Suddenly, one of the Egyptian soldiers gestures at his backside. When the riders didn't catch on, he took a strip of newspaper and pretended to swipe at himself with it. Finally understanding, they all took rolls of toilet paper from their bikes and threw them over the fence, as the Egyptian soldiers ran around, picking up the rolls.
Just another example of the deep and abiding peace between Israel and Egypt.
Chaim Daon is a welding inspector working on one of the country's most important energy infrastructure projects: the natural gas pipeline. When complete, the gas pipeline – an extension of the El-Arish-Ashkelon gas pipeline from Egypt to Israel, which became operational in 2008 – will be able to transport up to 7 billion cubic meters per year, relieve some of our industries' dependence on oil, help clean the atmosphere and give additional economic weight to our cold peace with Egypt.
The project, under construction for several years now, comprises hundreds of kilometers of pipeline with joins all along the way, so the work done by welding inspectors like Daon and his colleagues is crucial for keeping pipes intact and leaks at bay.
Daon – or Captain Caveman as he's known by the Holyland Hash House Harriers, an international drinking and running disorganization (to which I also belong) – allows us a peek at what's going on just a few meters below the surface…
The tender to build the pipeline was won by a foreign multinational and the teams working on the project come from all over the globe. They work by day…

And by night…

The pipeline is intended to serve Israel's major industries, chiefly Israel Electric Corporation (IEC), which is in the process of converting its oil-driven power stations to natural gas. IEC noted in its most recent Environmental Report that since the introduction of natural gas in 2004, a carbon dioxide emissions have decreased by 11%. More information about the Gas Market Law and gas reform in Israel is available at the Ministry of National Infrastructures website.