Who are the Kinzy's and why are they so important to the future of Israeli tourism? The Kinzy family of four, from Bulverde Texas – along with another couple from New York – were chosen from nearly 600 applicants to participate in an all expenses paid two-week vacation in Israel. The catch: the lucky winners have to post pictures, videos and status updates to Facebook and Twitter.
The social media campaign was developed by New York advertising agency Bodden Partners and is being paid for by the Israel Tourism Ministry. The result is oddly compelling, in a voyeuristic kind of way. I don't know the Kinzy's, but it's fun to watch them experience Israel for the first time and document it all in public, in the same way that people can't turn off Big Brother and other reality television. Only this time it's for a good cause.
The Kinzy's were in Israel during the Passover holiday: one of their posts reads "we sure do love matzoh brie." There are 40 photos from the family's trip to the Galilee and another 37 snapped at the Dead Sea. There are also a number of YouTube videos – real down home stuff like visiting the Western Wall and eating at a steakiya.
The posts are understandably ebullient – not only did the Tourism Ministry pay for the trips, but a film crew followed the family around in order to make a post-visit commercial. To their credit, there's no subterfuge: the "welcome" screen on their Facebook page clearly indicates that this is not just a family who "happen" to be posting about a trip to Israel.
The effect, unfortunately, may not be as extensive as the campaign promoters would have hoped. Only 345 people "liked" the Kinzy's page (the other winners – Arthur Rollin and Caitlin McNamara – had slightly more, at 427 likes). But it's a creative approach to harnessing the power of social media, exactly what one would expect coming from a country as "wired" as Israel.
I'm sure you've read about this — it's hard to miss — but the uproar over the decision by Israel's Interior Ministry and Jewish Agency to deny Dale Streisand's request to make aliyah, continues. Dale Streisand is, yes, Barbra Streisand's cousin, although I haven't been able to figure out how they're related. I did find out, however, that Barbra is distantly related to Karl Marx, so that's something.
In any case, some folks in the Israeli government have determined that turning down Barbra Streisand's cousin from coming to live in Israel is probably a bad PR move given her diva-like status and popularity, and, her major donations to all
kinds of causes
, including political parties, the environment, women's causes and nuclear disarmament.
The thing is, the Interior Ministry and Jewish Agency — a governmental ministry and quasi-governmental agency — that are charged with
handling immigration issues
for Israel, used Dale Streisand's Facebook page to get a sense of the guy. Not surprising, given how we all Google and Facebook people we don't know to get a sense of who they are.
On Dale Streisand's Facebook page, he has only 15 friends, which is a very small list, including at least one of his five children, a rabbi and Chabad Philippines. He also lists Yentl as his favorite movie, clearly pointing out his relationship with his famous cousin and a page favorite, aliyah organization Nefesh b'Nefesh.
But if anyone can shed light on Dale and Barbra's familial relationship, please chime in.
Here's a case of either extreme Israeli chutzpah or a prime example of how we get things done and aren't stymied by details, class, or obstacles.
Nimrod and Sharon are two young Israelis who met on Facebook and are getting married on Purim day, March 17 at the Tel Aviv Port. Since they credit Facebook with the 'matchmaking,' they decided to invite the site's founder Mark Zuckerberg to the wedding. And they recorded a YouTube invite for the celebrated tycoon.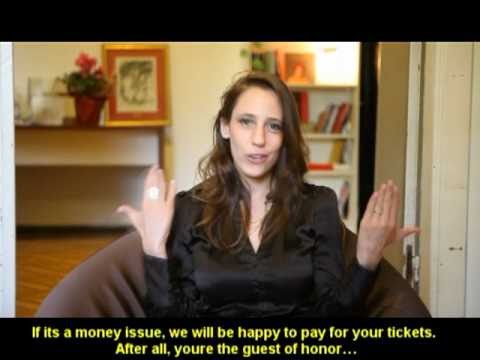 You've gotta love Sharon and Nimrod's gumption and their humor as well. "If money is an issue, we'll pay for the ticket" is the kicker that brightens up the clip and just might get Zuckerberg to accept. Who knows? Maybe he'll find the match of his own at Sharon and Nimrod's wedding.
Ryan Seacrest
had all been in town for a friend's wedding in Jerusalem, held at the
swank Mamilla Hotel.
After a long 'discussion' of comments about whether people would or wouldn't be interested in bumping into Tom (too nuts as a Scientologist), Denzel (liked by all) or Ryan (most couldn't decide whether it was Ryan Gosling or Ryan Seacrest), it was added that the wedding they were attending was that of Ben Silverman, former co-chairman of NBC Entertainment and an Emmy-winning executive producer of shows such as The Office, Ugly Betty and The Biggest Loser.
So it seems that Silverman was marrying his longtime girlfriend, Jennifer Cuoco, in a destination wedding in the holy land. They got engaged last year on a golf course, and for whatever reason, decided to get married here. I'm thinking that it had to be a good party, given that this is a guy who once partied with caged lions. He's also the one who's been gently mocked on "30 Rock" as the character Devon Banks, an amusingly slimy NBC executive played by Will Arnett.
Well, mazal tov to Ben and Jennifer. May you live happily ever after.
The All Facebook blog this week reported that the Israeli army is now monitoring the Facebook profiles of young female citizens in order to catch those who have falsely declared themselves "religious." Such a declaration results in an exemption from the draft, usually to perform national service.
According to the article, Brid-Gen Amir Rogovsky says the IDF has already found 1,000 Israeli women in violation of the law and brought them back to serve. The women cited by Rogovsky, I must admit, were not particularly clever.
One uploaded a photo in which she was holding a menu from a non-kosher restaurant. Another logged onto Facebook on Shabbat. And, of course there were various poses posted of would-be draft dodgers in revealing clothing, not in keeping with a formal statement of a "religious" lifestyle.
The phenomenon of checking Facebook to determine what you're getting into is not limited to the Israeli army. Employers now regularly scope out the social media presence of potential employees. A shot of a candidate for vice president of business development swigging from a keg in a strip club might sink a promising career.
The issue of faking religiosity is one that has recently come up in our household. A family friend who is not religious is planning to make her declaration…then skip out of the country entirely, avoiding even volunteer work. Needless to say, my army son and pre-army daughter do not approve.
While it might sound boring to have the job of reading Facebook profiles all day long, the IDF has some more proactive tricks in place. They occasionally create Facebook "events" that take place on Friday nights. If a woman being tracked marks that she will be "attending," she'll be getting an invitation of a very different kind.