You've probably watched this bar mitzvah invite that was making the rounds on Facebook for the last week or two. Created by the Goodman family of Tel Mond, a suburb near Ra'anana, the clip uses a scene from a biblical made-for-TV-movie depicting the reconciliation between troubled twins Jacob and Esau — the parsha for the bar mitzvah boy, Eyal — as the pretext for the invite.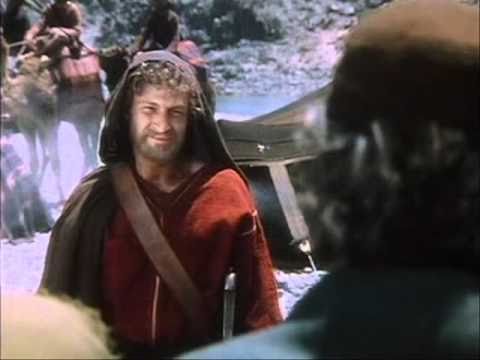 What's hilarious about the whole video is that it made it's way across Facebook, receiving 70,000 hits at the last count from the Jerusalem Post, and even a mention from Atlantic Monthly writer Jeffrey Goldberg, who declared his own blog wish to attend Eyal's bar mitzvah.
The invite seems to have been created by an event planning company, Your Simcha In Israel, and they've gotta be pleased by all the free publicity this invite has generated for them. My question is, how did the family feel about having their private invite plastered all over the internet?
Israel's Tourism Ministry is making great efforts to join the 21st century – the latest attempt being a pretty cool one.
The launch of a new iPhone application finds the user's location and let them receive fast, updated information on sites, tours and events in the immediate area. According to a press release put out by the ministry, the app – named iSrael – can be downloaded for free from the Apple Appstore.
While currently available in English and Hebrew, there are plans to expand the app to Russian, German and French. In the meantime, there's a plethora of information available, listed under themes like archeology and history, nature and animals, holy places, national sites and parks and gardens.
Clicking on a site opens a new page, which provides a photo and a description of the site as well as helpful information like contact details, hours of operation, a map of the area, a precise address and a link to the attraction's website. There's also a section for hikes and tours called 'Tracks' which is divided into hiking tours, bicycle tours, vehicle tours and tours for people with disabilities.
You can also find hotels and other accomodations through the application, including details like kashrut standard, suitability for young children or pets and maps.
And, as an extra attraction, users can upload their own photographs and comments to social media sites such as Facebook and Twitter in real time through the application.
Jerusalem Post resident techie David Shamah praised the iSrael application for its nice interface, and offered some tips for the future:
There are a number of blank sections in the database, such as lists of restaurants, recommended tours outside the center of the country and other details, but one can assume they will be filled in over the coming days and sent on to those who downloaded the app.

Currently, you can click on a phone number or e-mail address to make a call or send a message to a hotel, organization or other group featured in the listing you've been reading; hopefully the app will provide maps and driving directions to the sites included in the app, taking advantage of the tight integration of the iPhone platform.
Now if we could just get the taxi drivers to start behaving in a civil manner…
cupcake craze has arrived in Israel
, at last, although not in Jerusalem. Nevertheless, we can live vicariously through our
Tel Aviv compatriots
. Given that it was happening already in the U.S. as of
2008
, even 2006 according to some reports, we're only two to four years behind.
But the real sign that cupcakes are a pastry delicacy to be seriously considered is the current Facebook vote to find a suitable Hebrew name for them. Until now, they've just been called 'cupcakes,' Israeli accent included. But pastry chef Judith Yud Zer-Aviv, creator of the marzipan Fendi hat, decided to do something about it and put together a Facebook vote for best Hebrew term for the muffin-sized cakes.
According to her tally, the most popular offerings were: Inogit (anog means soft, delicate, refined); Maafiyon (maafe is a pastry); Givionit (gaviya is a cone); Mafokit (again, a play on pastry); and Ugit (as in a small cake). Her personal preference is for Ugvis (ugiya is a cookie), but unfortunately I was left feeling that no real decision had been made, (although I did like mafokit).
It's clear that we need the Academy of Hebrew Language to step in, as they did recently with the addition of kruchit, the new official word for the @ sign in the global email language.
Until then, however, looks like we'll be making do with the standard term, cupcake. And eating them.
It's Sunday, which means today is deadline-day for the American, Israeli and Palestinian officials looking to broker a possible deal regarding Jewish settlement building, en route to peace talks.
Perhaps you've already read that news, whether online, in the newspaper or on Twitter. If you did read it on Twitter, you may have received it from @Israel, the latest effort from Israel's Foreign Ministry to help improve its image.
Given Twitter's runaway success, it's definitely not a bad idea for Israel — the country — to have its very own micro-blogging presence. What's interesting is how Israel acquired @Israel. According to the recently reported New York Times story on the subject, it was the Spanish owner of a pornagraphic website who sold the name to the state. The Spanish gentleman, Israel Meléndez, acquired @Israel in 2007, when Twitter was still quite unknown. According to the Times,
"He struggled to use his account…because every posting prompted a flood of anti-Semitic or anti-Israel comments from Twitter users, in a case of mistaken identity.

'My account was basically unused because I was getting dozens of replies every day from people who thought the account belonged to the state of Israel,' Mr. Meléndez said."
According to Israel's Foreign Ministry, wrote the Times, the ministry did purchase the name as part of its efforts to expand into social media. So you can join the PR effort if you like, either by 'friending' the MFA (Ministry of Foreign Affairs) on Facebook, or on Twitter.
One of my closest childhood friends flew into town this week for a whirlwind Jewish Federation-sponsored tour of Israel. Ted had a couple of hours free in Jerusalem, so along with Israelity colleague David Brinn and his wife Shelley (who had also known Ted back in the day), we met up at a local branch of the Cup O' Joe coffee chain.
Ted had been a critical part of my tween and teenage years. We had become close at a JCC summer camp and shared myriad adventures until I took off for college. In the years afterward, we mostly fell out of touch – that is until Facebook brought us together again.
Our meet-up was great. We reminisced about old friends from high school and where they are today and, being Jewish, inevitably discussed politics, religion and international perceptions of Israel ("it's not a flotilla, it's a convoy," the government spokesperson told Ted's group of Federation professionals).
When I got home, I was inspired to pull out the old diary that I had kept since sixth grade. In-between such mundane entries as "I washed my hair today," and "the combination for my new locker is 26-10-20" (don't bother trying it; they've changed the locks at least several times since 1974), there was Ted. But not just a mention here and there; he was on nearly every page.
"Today Ted and I took the bus to Berkeley and had a hotdog at the Orange Julius." "Ted and I went to Audrey's party and we didn't come home until 5:00 AM." "Ted and I talked on the phone for two hours tonight."
Ted was "my best friend," I wrote, whom I now remembered was the subject matter for a chapbook of poems I wrote for Creative Writing class during my sophomore year at Oberlin. What a joy to have those memories awakened again!
As I dove deeper into the diary, though, the mood began to darken as the chaos of my teenage years asserted itself: all the confusion and chattering and trying to interpret every infinitesimal move a friend might make as somehow earth-shatteringly significant.
Slowly, I found myself being pulled back into a world I realized I'd idealized over the years, coating it with the pastel sheen of pre-responsibility, before the weight of adulthood, with its financial decisions and career malfunctions, transformed buried torment into hazy memories of "carefree" days.
There were the unrequited crushes; the incessant attempts at re-inventing myself; the four-month break when Ted and I didn't speak (for the life of me, I don't remember why, but it must have had something to do with a girl).
I wanted to call Ted and tell him to rush over, to sit with me and pour over the pages. To provide a reality check for my gushing teenage prose. We had such good times together, didn't we? So why was my nightly analysis so depressingly dour.
But I didn't call. Instead I turned to my wife Jody and we replayed the 30 years after high school: our tender and happy life together; our three beautiful children; the decision to move to Israel and all the wonder and tragedy that has incurred.
I put away the diary. Will I open it again? Perhaps. Those years will always be a part of me and it was courageous, I suppose, to dwell there, if only for a brief few moments. I will make a point of staying in touch with Ted (Facebook makes that deliriously easy). He was a huge part of my life. He should be again – but in the future, not the past.